Design Ideas for a Stunning Shiplap Fireplace Wall
The shiplap fireplace wall features heavily on home design shows and blogs for good reason. This popular material is easy on the budget, widely available, ultra flexible, and suits a wide variety of interior design styles. But did you know that you don't have to use an electric fireplace when combustible finishing materials are present? Using a modern gas fireplaces safely with shiplap finishes is not only possible, but has fewer limitations than you might think.
Read on for a crash course on pairing a gas fireplace with combustible materials like shiplap. We're also including some fireplace wall inspiration using shiplap alternatives.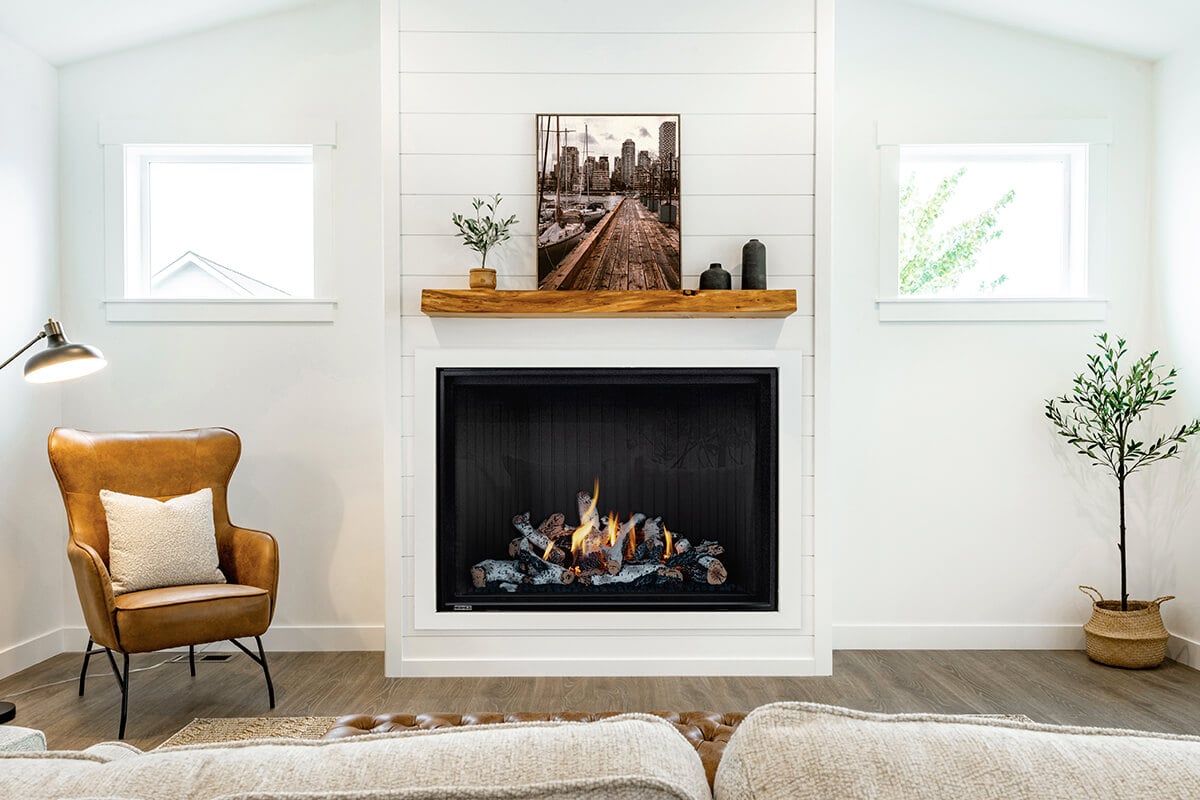 Shiplap Fireplace Wall Ideas
From the hull of a 1700s era Viking ship, to one of the hottest interior design trends, shiplap has an interesting history. Once the signature overlapping planks moved indoors, they were used to keep out moisture and provide a smooth backing for other wall coverings. However, shiplap was never meant to be exposed.
Enter Joanna Gaines of television's "Fixer Upper" fame. Joanna famously painted shiplap back in 2013 as a budget friendly option during a restoration. The homeowners were skeptical, but were quickly won over by the finished result. TV viewers fell in love too it seems. This enduring trend creates a timeless look on feature walls, ceilings, headboards, and fireplace surrounds everywhere. Sometimes just in a mud room, or even throughout an entire house.
Shiplap Fireplace Wall Guidelines
Many fireplace manufacturers allow for the use of combustible facing materials with specific gas fireplace models. However, guidelines do vary – from manufacturer to manufacturer AND from model to model. If you plan to use shiplap on your fireplace wall, it is important to check the manual for detailed specifications on the model you choose.
The designation of "Zero Clearance" on a gas fireplace doesn't always mean the same thing. Some zero clearance fireplace models allow the usage of shiplap as a facing material, with the caveat that a non-combustible material like tile must be used around the opening. Some allow for the usage of shiplap as long as there is a non-combustible like cement board underneath. And some allow for the placement of shiplap directly on the fireplace. It is critical to know which "zero clearance" description applies.
Montigo's DelRay Linear and Square series allow for shiplap installation directly on the fireplace, and right up to the opening of the glass. All models are also compatible with Cool Wall Release heat management and Cool Wall Advantage kits.
Shiplap & Fireplace Wall Installation Considerations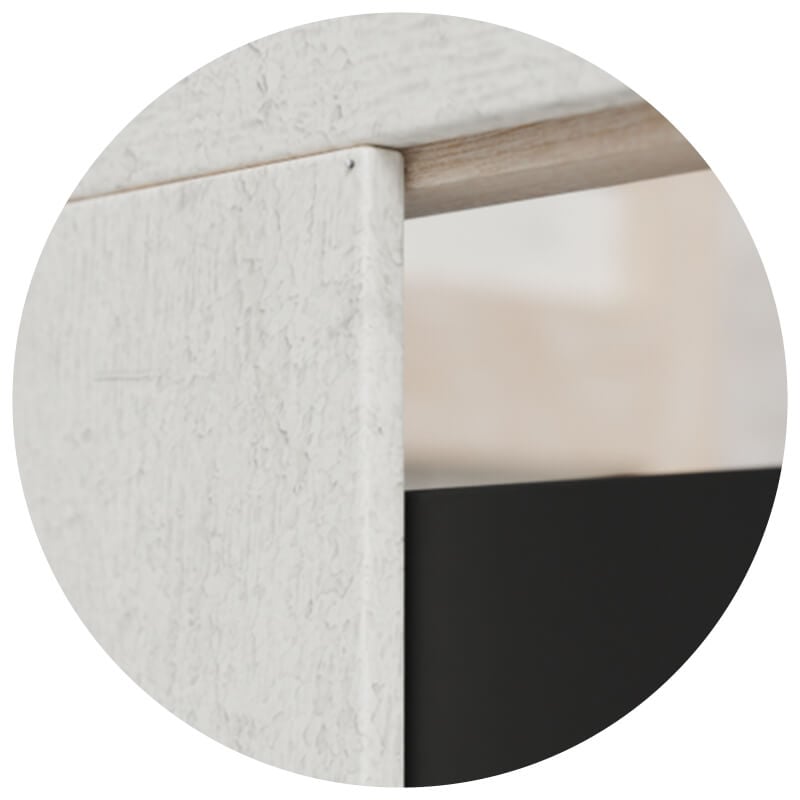 Top Clearance
The top of fireplaces tend to bet very hot. Therefore, clearances from the top of the fireplace to combustibles (such as a wood header) are often needed.
Additionally, ensure that shiplap can be safely installed on the face of the fireplace. This information can be found in the fireplace manual or by talking to your fireplace dealer.
Framing & Shiplap Support
Properly support the shiplap by providing adequate cross members to nail into. These structural supports should be clear of all venting components as they tend to have clearance requirements of their own.
Vertical and diagonal shiplap installations may require more support.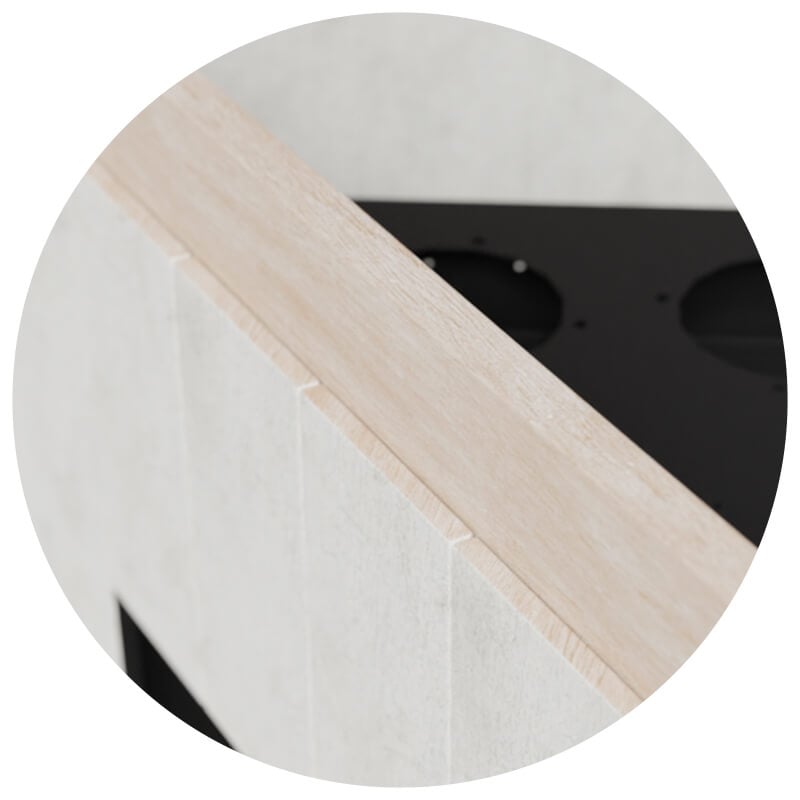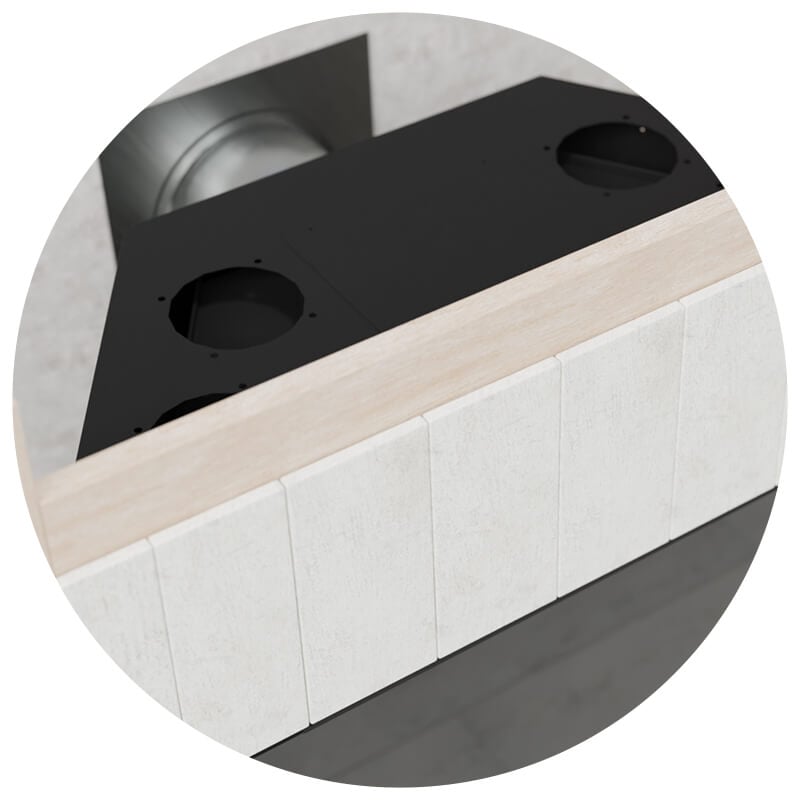 Fireplace Chase Inside
While the outer facing material may be a combustible material like shiplap, the inside of the chase needs to be clear of materials such as insulation, wiring, and vapor barrier.
Additional features like heat releases and venting ports may be required to allow for the use of combustible materials.
Creative Shiplap Fireplace Wall Alternatives
Craving a shiplap fireplace wall with a little extra flair? Consider board and batten or skinny wood slats for a creative spin on shiplap.
Board and Batten
Board and batten describes a style of paneling that uses alternating wider "boards" and narrower wooden strips called "battens". The boards are typically 1-foot wide with battens about 1/2-inch wide. Create the look by first attaching the wider boards to the fireplace wall. Then glue and nail the narrower batten pieces on top, spaced to cover the seams.
Adjust both board and batten widths to create a wide variety of effects. Place the boards horizontally, vertically, diagonally, in a grid, or even in a chevron pattern. The possibilities are only limited by your imagination!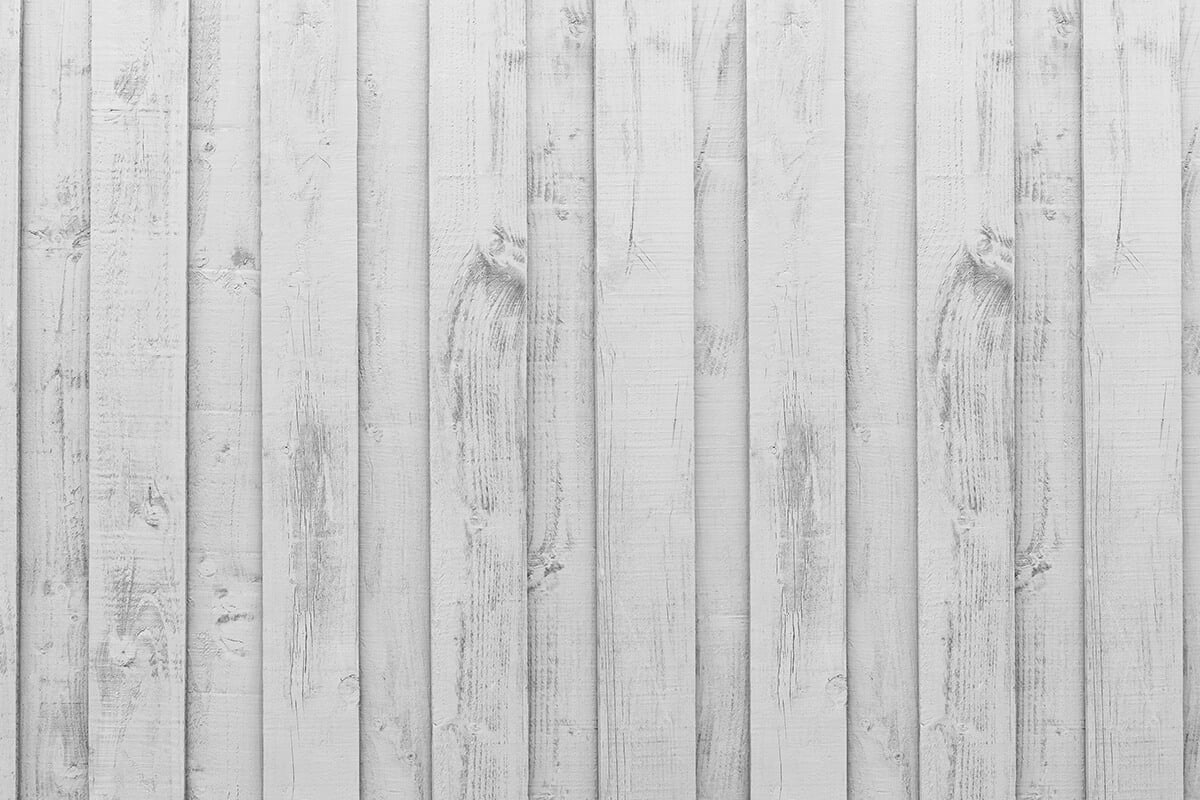 Skinny Wood Slats
The mesmerizing texture of skinny wood slats adds a real punch of visual interest to a fireplace wall. Crisp and clean, with continuous channels and shadows. Skinny slats are also sold in pre-made panels for easy installation.
Like board and batten, install skinny slats horizontally, vertically, diagonally, or even in a chevron pattern. For extra texture, alternate the orientation in a large grid pattern.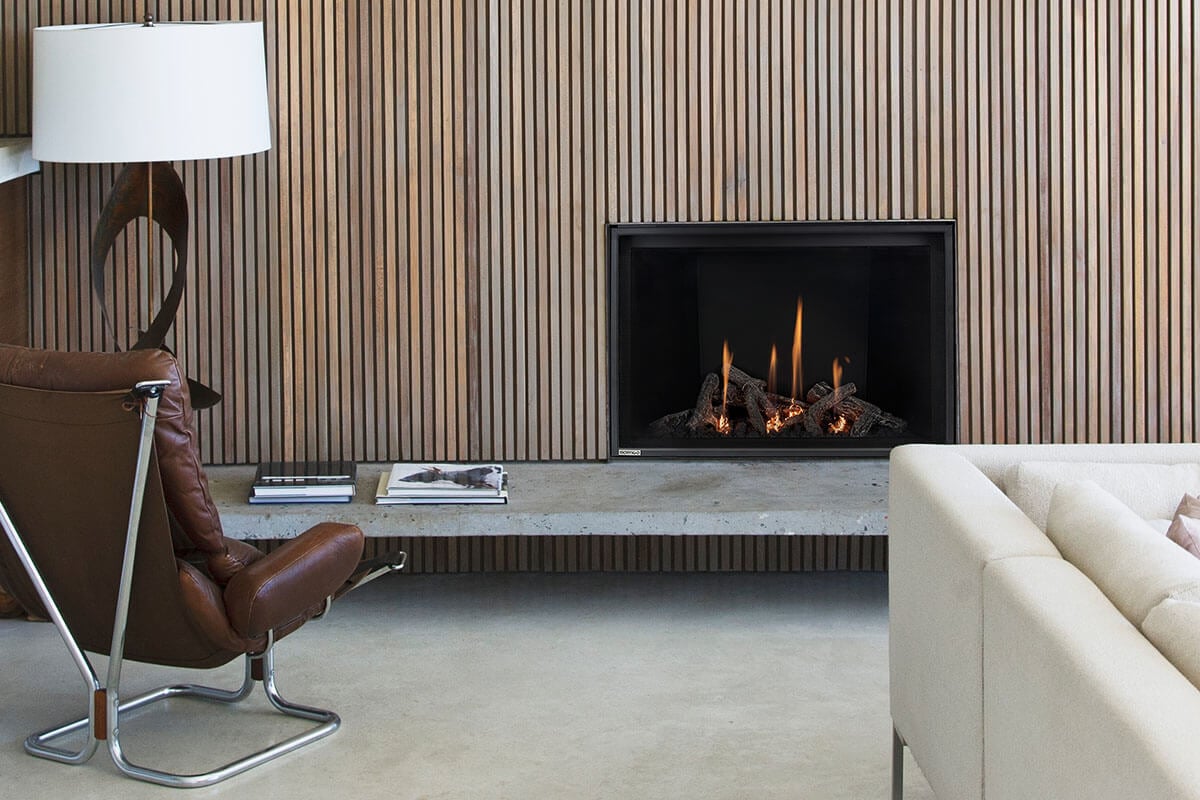 If you are extra handy and have the tools, create the a wood slat finish yourself using finger jointed molding. That way you can easily create a hidden opening for venting the fireplace chase.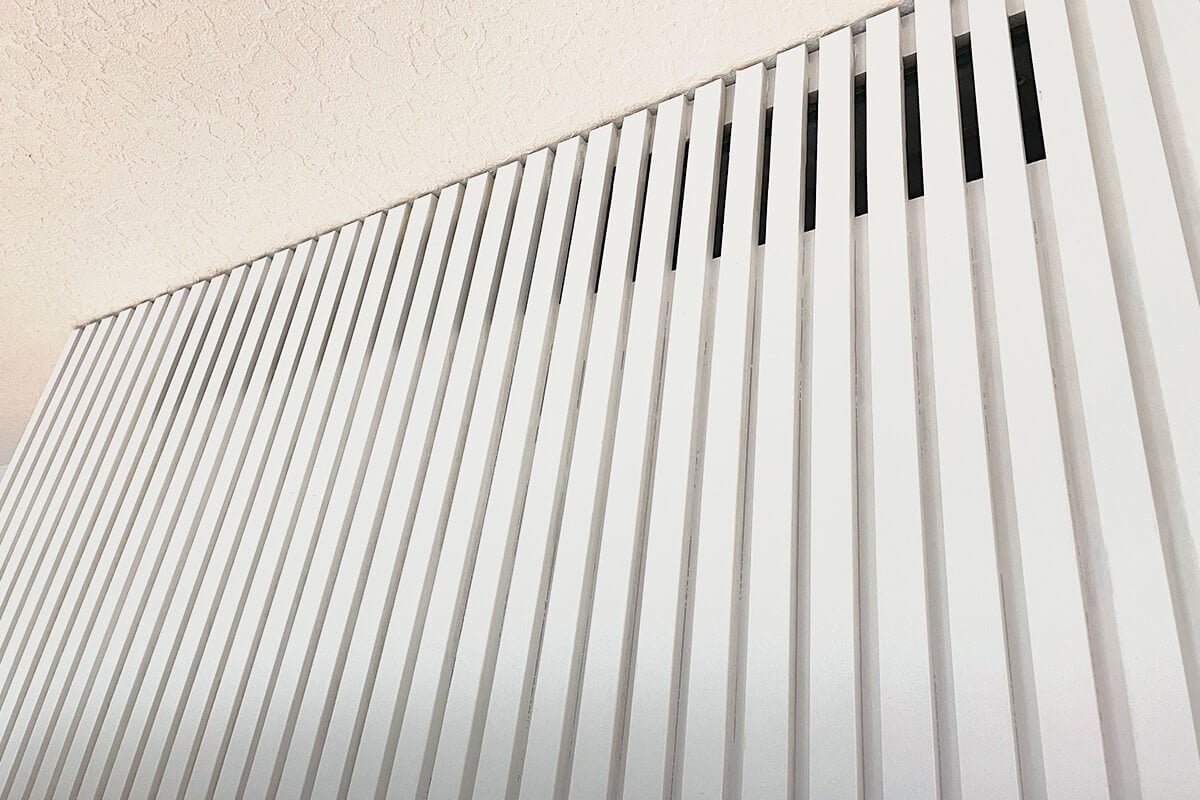 Looking for more fireplace wall design inspiration? Check out some of our other idea posts…
Fireplace Design Ideas with the Exemplar Series
Fireplace Design Ideas that Will Inspire You