Design Ideas that Will Bring Your Fireplace to Life
We occasionally get questions from homeowners about design ideas for updating their fireplace. The questions range from the finishing materials used in our brochure photos to can they paint or replace the dated brass accents on an aging unit.
Whether you want to freshen up an existing fireplace with a change of mantel, a bit of paint, a full design overhaul, or replace the unit and create a masterpiece. There are a lot of ways to upgrade and endless materials to choose from.
We've chosen to feature our DelRay Square fireplace in this post because it is extra flexible when it comes to finishing materials. The DelRay allows combustible facing to be installed right up to the glass opening. It's also compatible with the Cool Wall Advantage heat management kit, so you can finish it with just about any material available.
Let's dive right in and explore a few gorgeous options for finishing a fireplace.
Design Idea: Warm & Rustic Natural Wood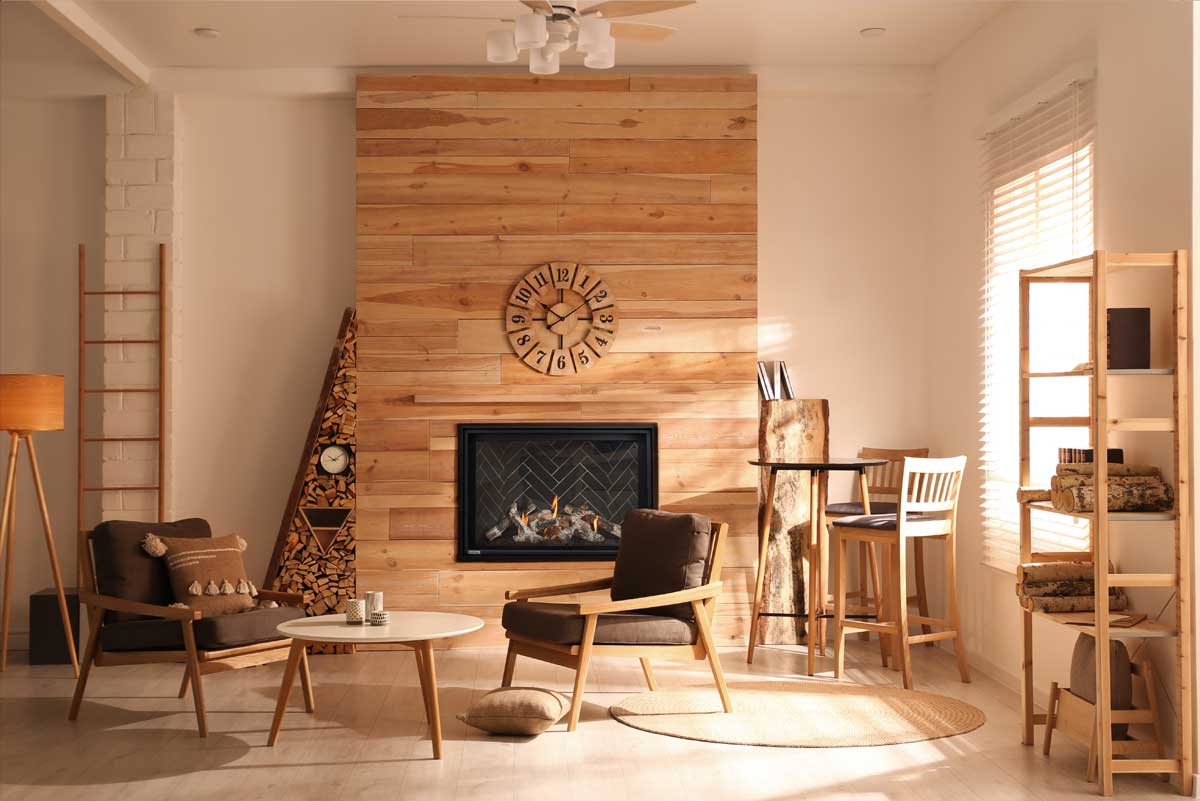 Nothing brings cozy into a room like natural, unpainted wood. It's at home in every room and elevates every style from simply clean to an overstuffed leather library. Both modern and rustic, using wood in a space makes it instantly feel homey.
A natural, unvarnished pine plank will also "honey" and deepen as it ages, bringing even more warmth to a space. The simple faux mantel shown here is an almost invisible detail shelf where you can showcase small décor pieces.
Shop the Look
Fireplace: DelRay Square 38
Liner: Grey Herringbone
Media: Birch Logs
Finish: Pine Shiplap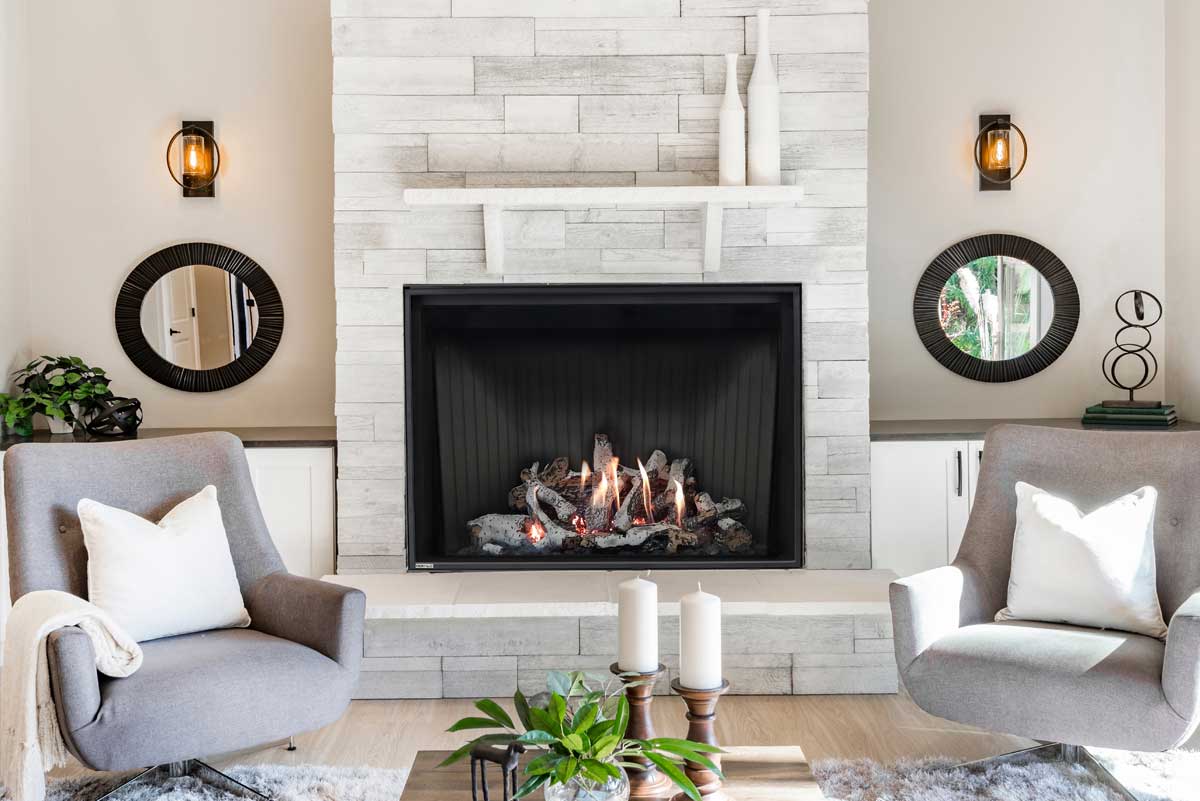 Relaxed and monochromatic, whitewashed wood panels bring an airy toned-down glamour to a neutral room. This look is clean and unobtrusive, perfect for minimalists and people who prefer a more subtle effect.
Casual enough for farmhouse but still contemporary enough to be right at home in the Scandinavian inspired room of your dreams. A simple white stone hearth and painted wood mantel complete the soothing layered neutral palette.
Shop the Look
Fireplace: DelRay Square 46
Liner: Ash Fluted
Media: Birch Logs
Finish: Whitewashed Reclaimed Wood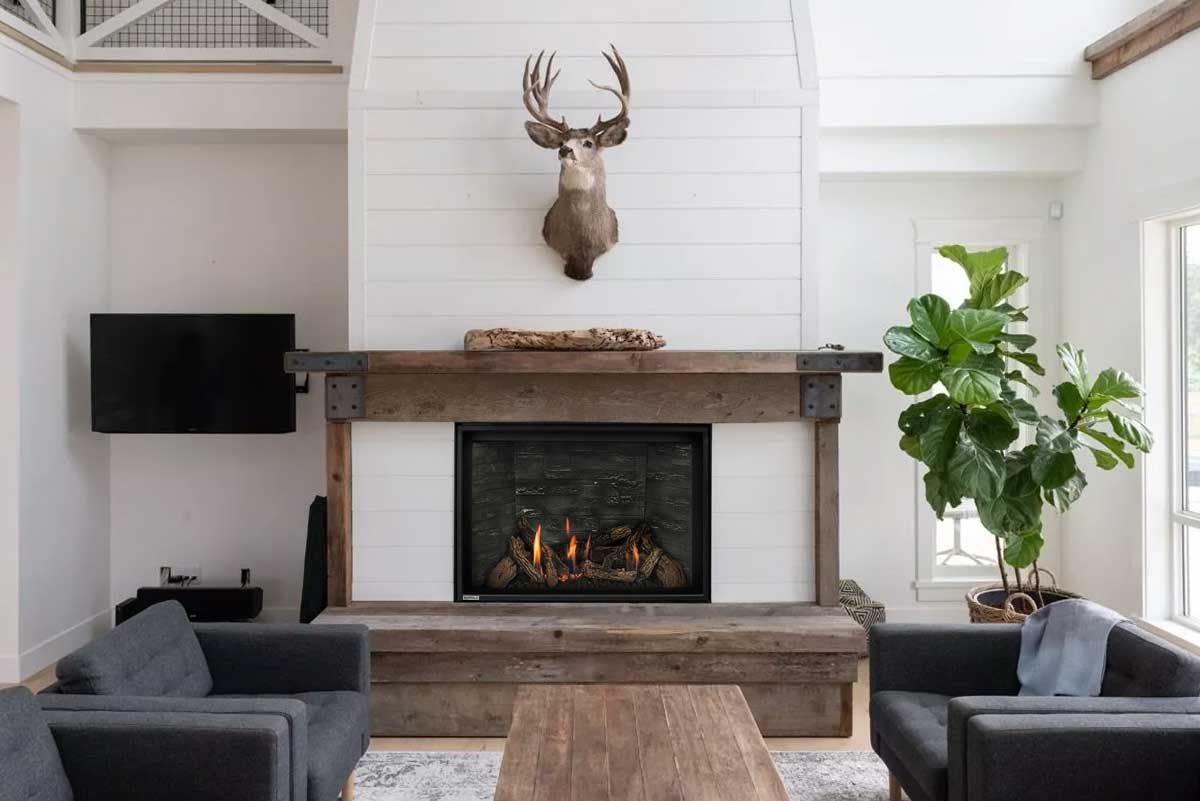 Earthy reclaimed wood and crisp white shiplap lend a weathered lived-in vibe to an otherwise modern room. Merging traditional and contemporary looks is a hot trend right now and Modern Country House strikes the right note with the strategic use of authentic materials.
The darker furniture and otherwise light color scheme make the room feel balanced. The use of organic materials makes the space extra inviting, striking a balance between old and new.
Shop the Look
Fireplace: DelRay Square 38
Liner: Grey Ledgestone
Media: Split Oak Logs
Finish: Raw Reclaimed Wood Plank + Shiplap
Design Idea: Creating Drama with Tile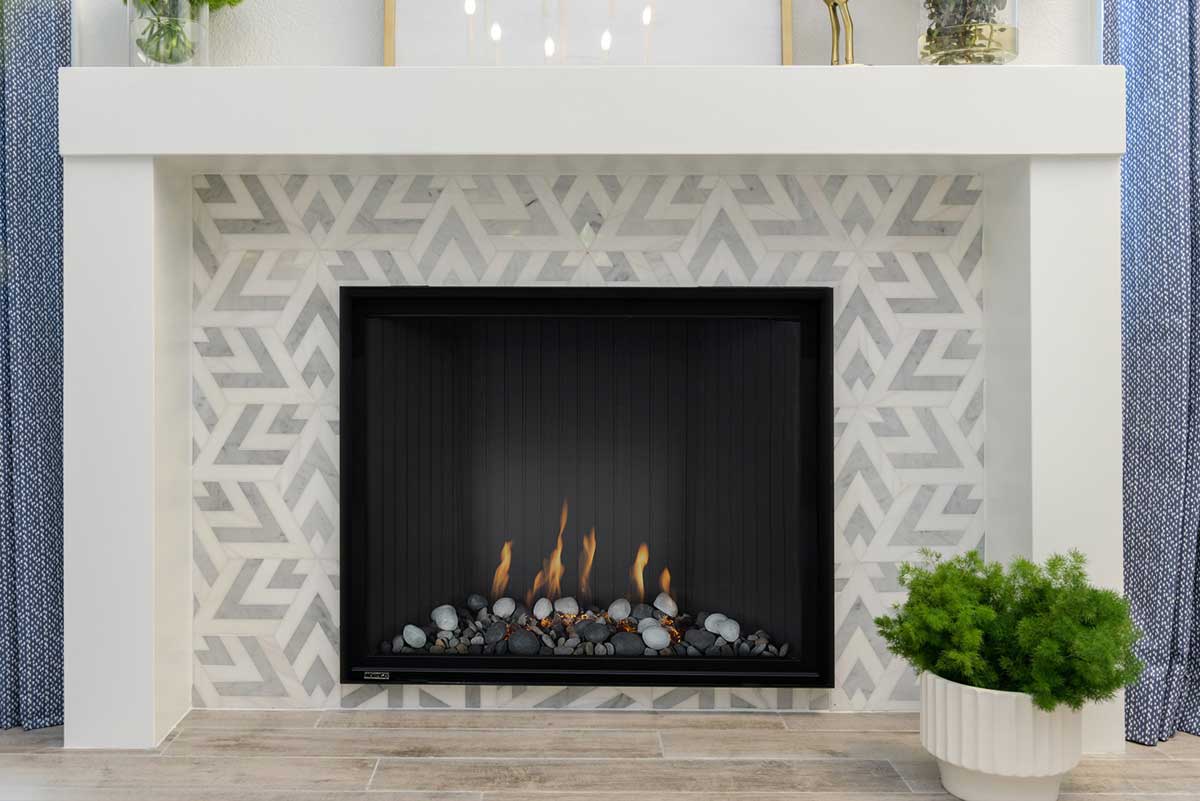 Nobody loves a patterned tile more than Drew Scott of the Property Brothers. With almost unlimited shapes, patterns, and colors to choose from, you can make your fireplace a stunning and colorful focal point.
In both rooms shown here, the pop of pattern and harmonious color adds a lot of interest. The eye is immediately drawn to the hearth, which makes the room feel warm and inviting. For an over-the-top showstopper, you could go with a bright contrasting color instead.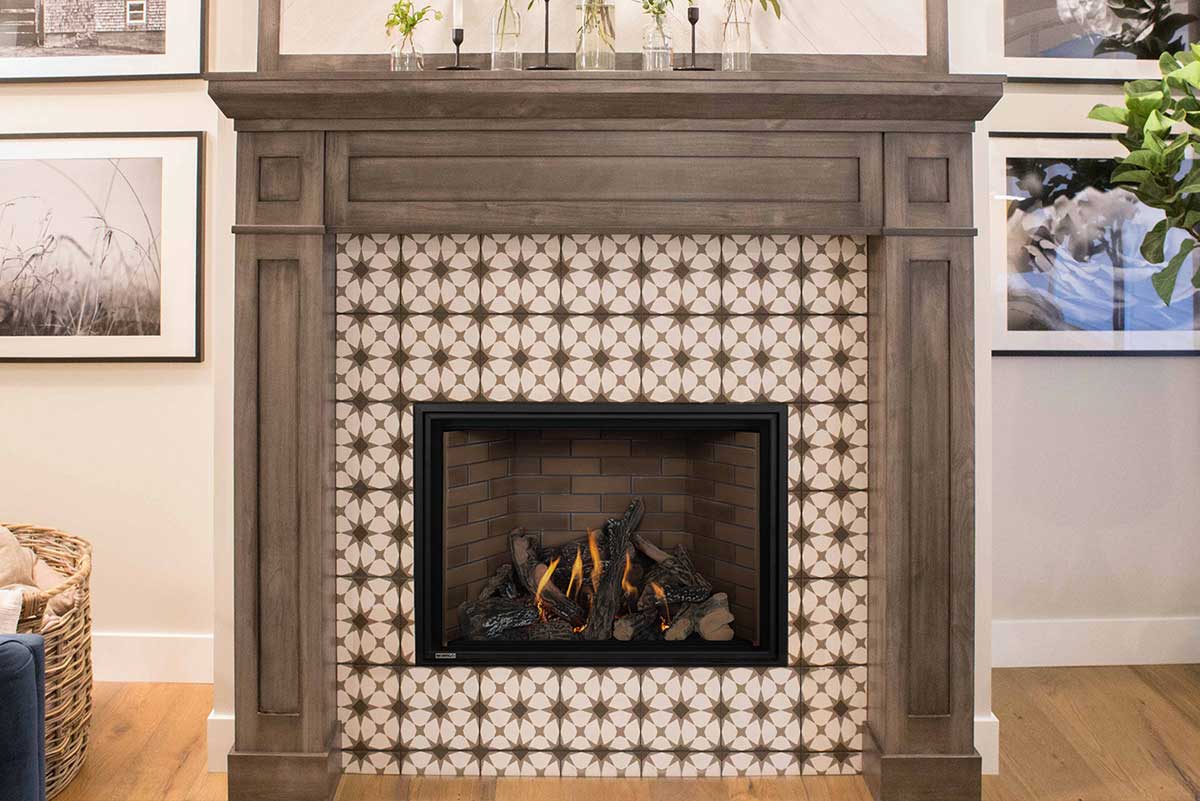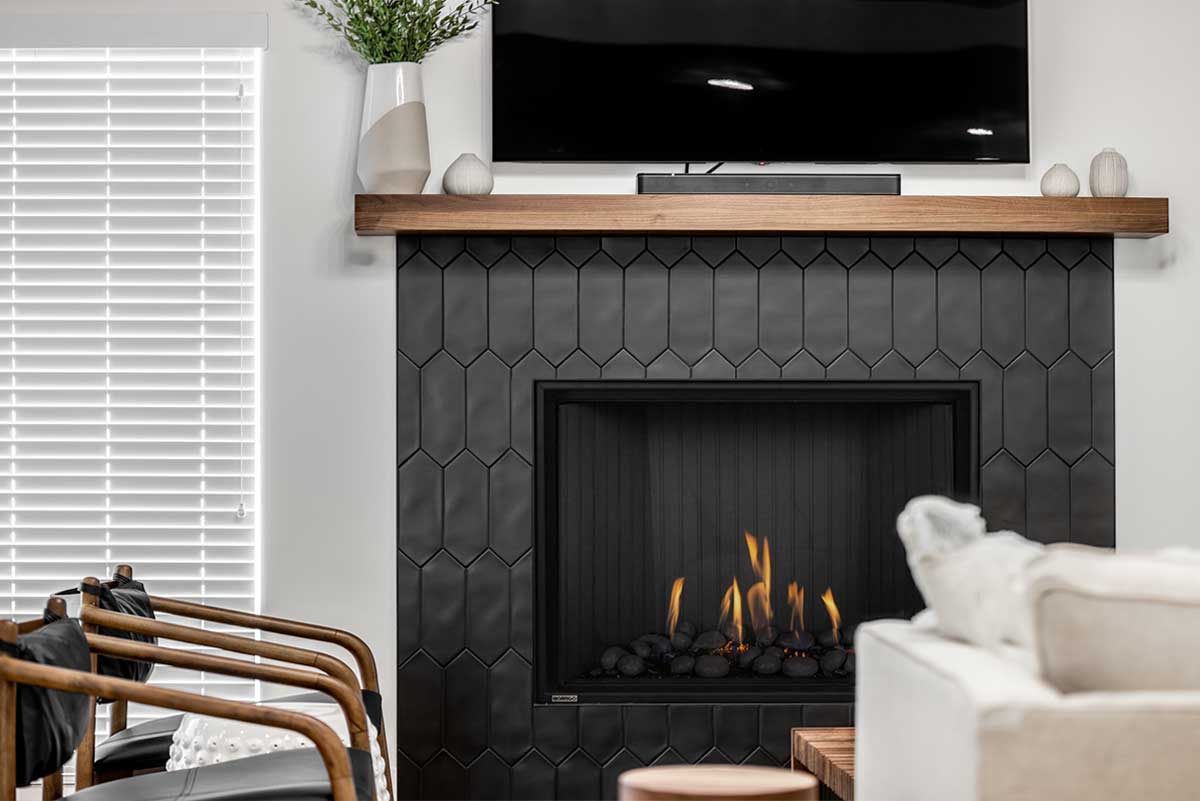 The perfect expression of monochromatic drama. Merola's beautiful satin glazed elongated hexagon subway tile is the ultimate in contemporary style. The subtle texture of black tile with dark grout might sound boring in theory, but the result makes a powerful statement.
Pairing the tile with a dark fireplace liner and media is stroke of genius as well, drawing the eye to the flame. Warm wood accents and a light color palette keep this bold look from overpowering the room.
Shop the Look
Fireplace: DelRay Square 42
Liner: Ash Fluted
Media: Twilight Scene
Tile: Merola Tile, Kite Black
More Fireplace Design Ideas
No matter which material you choose, check with your installer and refer to the fireplace owner's manual to make sure it's compatible.
See more fireplace design ideas and finishing material selection
If you want to display artwork or install a TV over the fireplace, check out our handy TV installation guide