Glass Media
Firestones
Premium borosilicate firestones are a modern and multifaceted choice to better reflect light in your gas fireplace and create captivating color and sparkle.
Fireglass
Shards of standard or mirrored fireglass that is 'crushed' or broken provides a clean and modern look in your gas fireplace. Fireglass has sharp edges – protect your hands with gloves and use caution when handling it.
Firebeads
Smooth glass beads that are rounded like pebbles provide a clean and simple look in your gas fireplace.
Designed to completely cover the burner, firestones, fireglass and firebeads can be paired with halogen or LED uplighting to create different moods.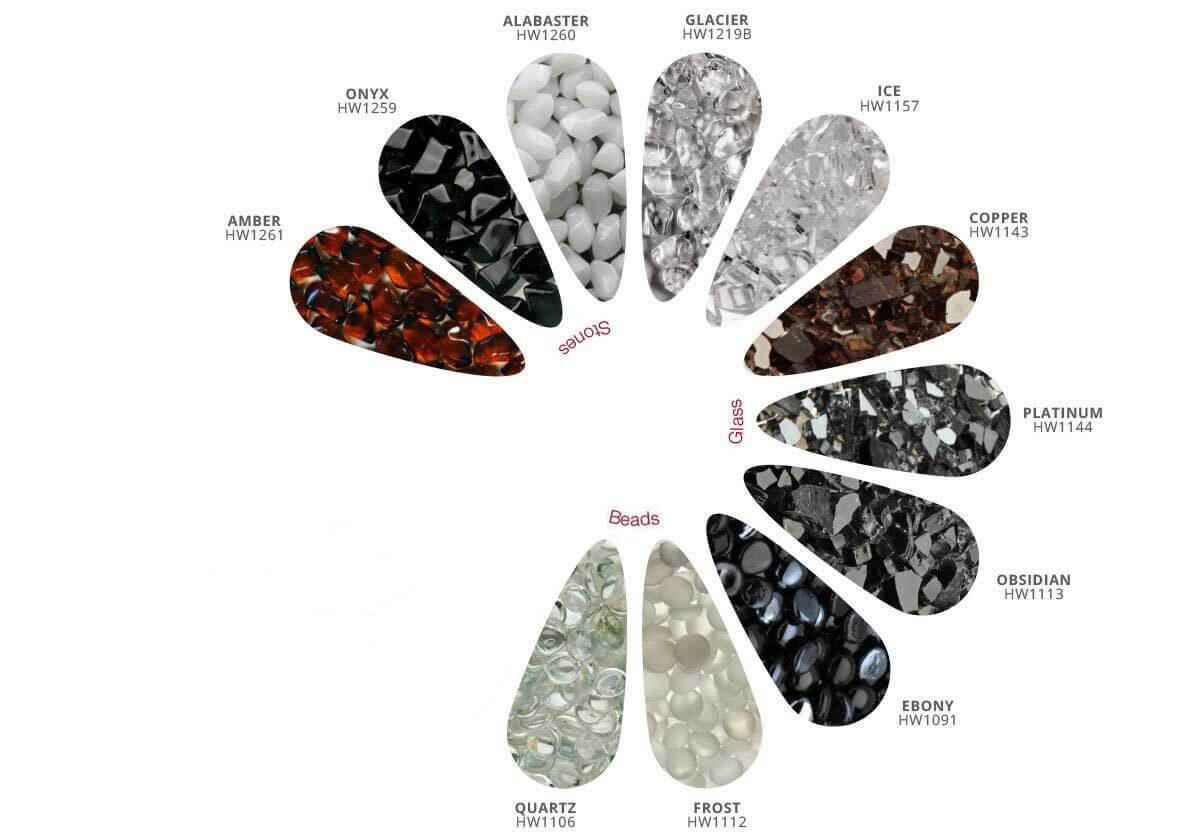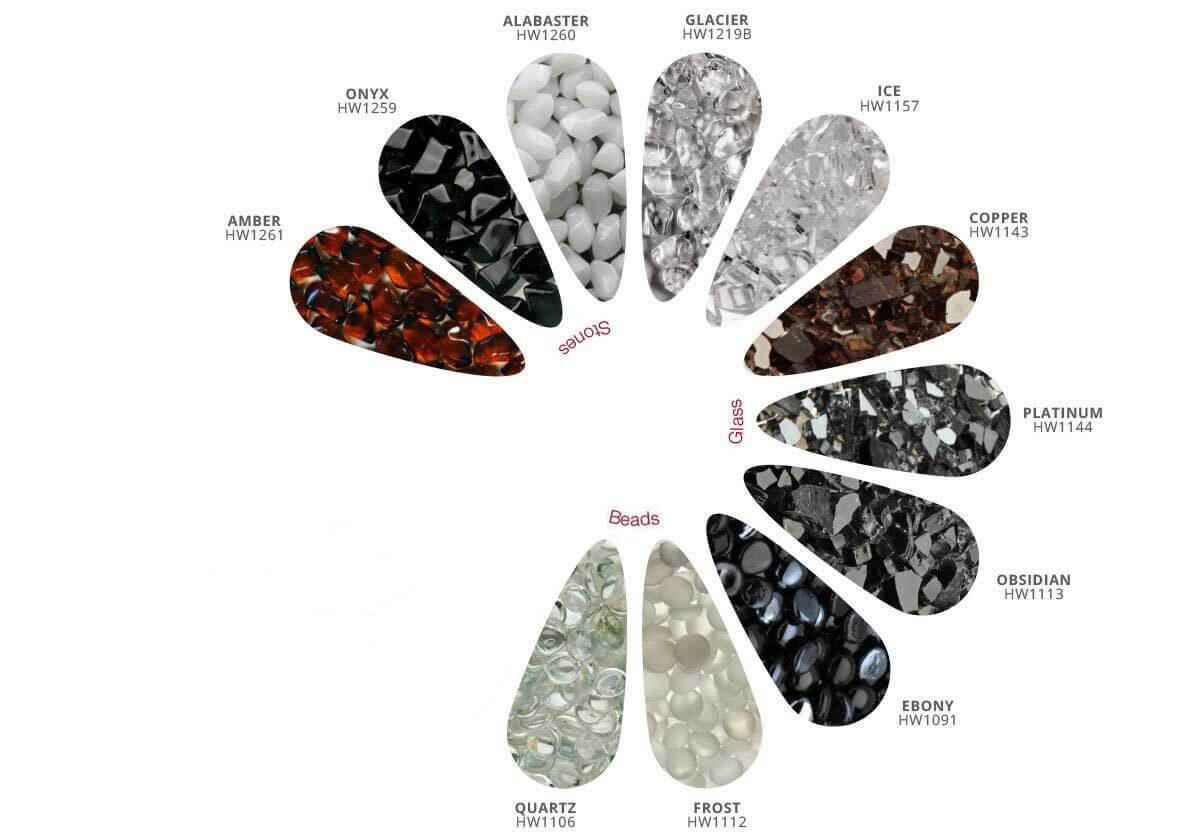 Speckled Stones
An elegant and earthy option, speckled stone can be used in gas fireplaces to bring the outdoors in.
Manufactured with heat resistant materials, this media won't crack or chip, even when exposed to direct flame. Available in a variety of colors, speckled stones are a popular choice for a contemporary earthy feel.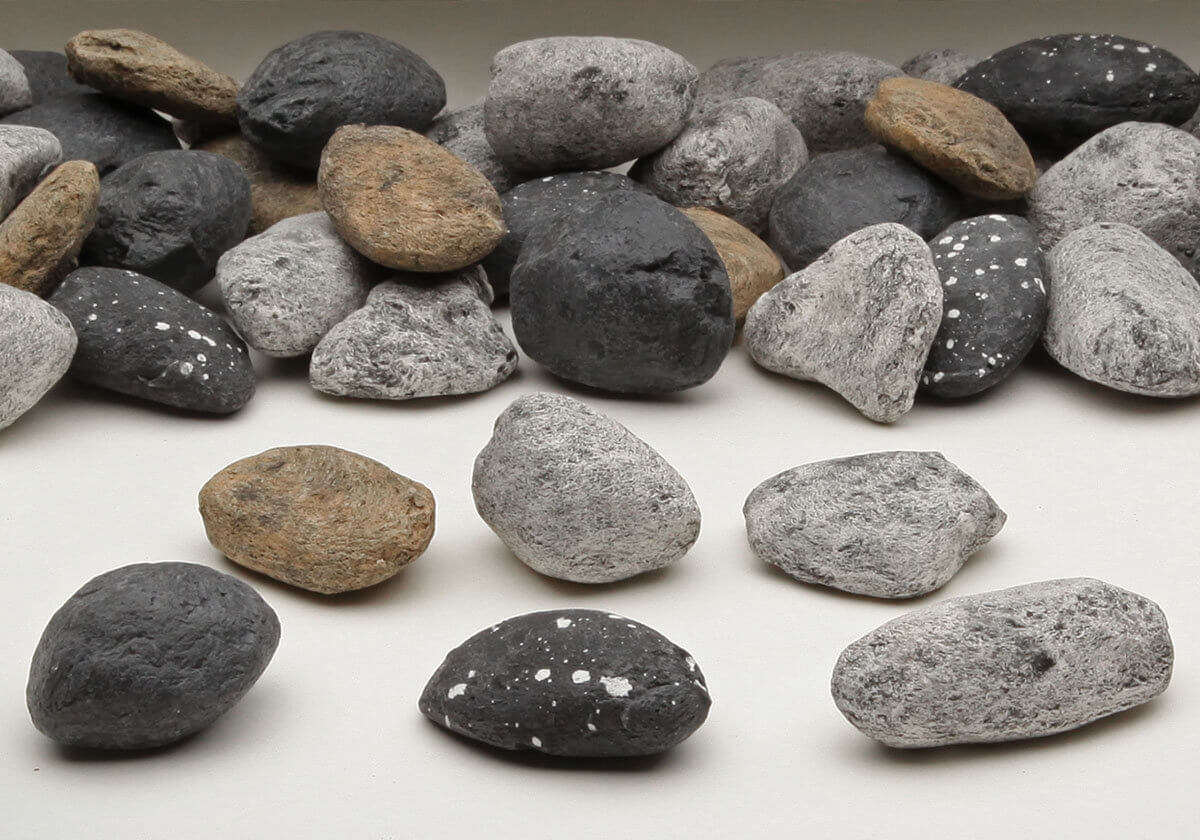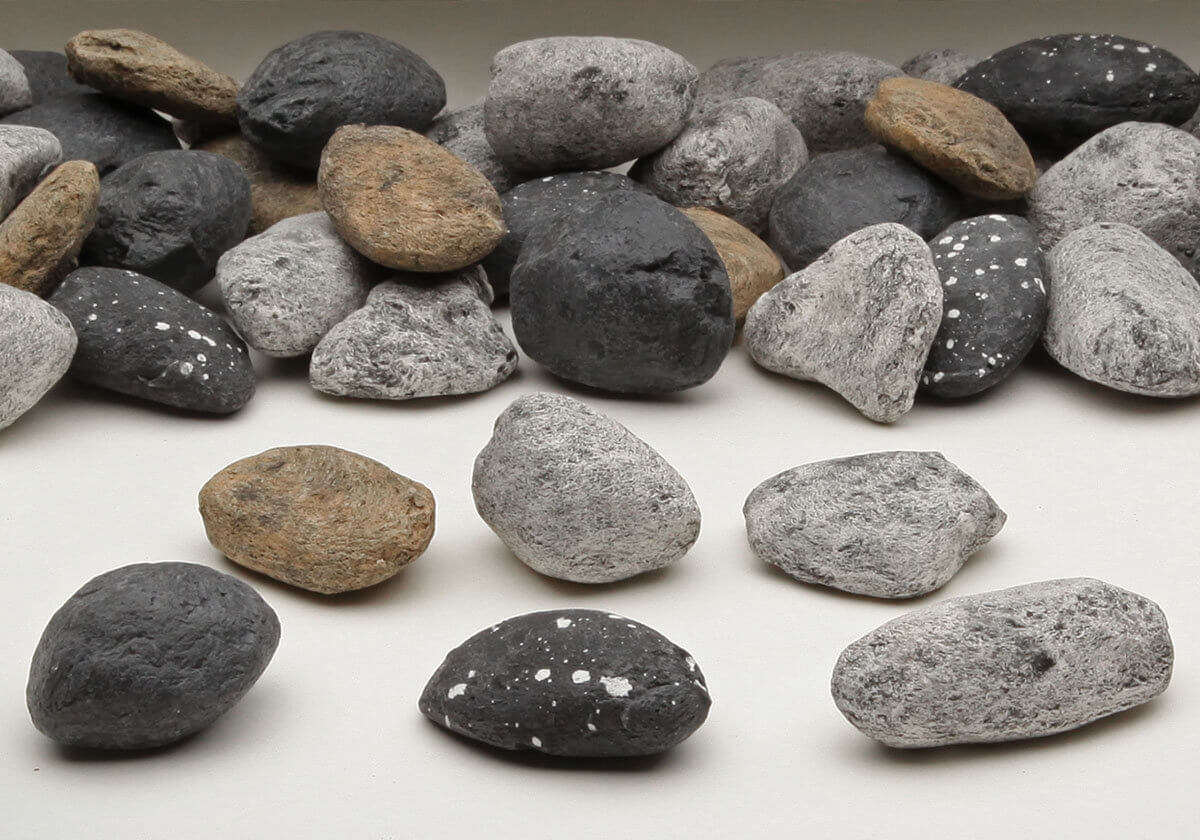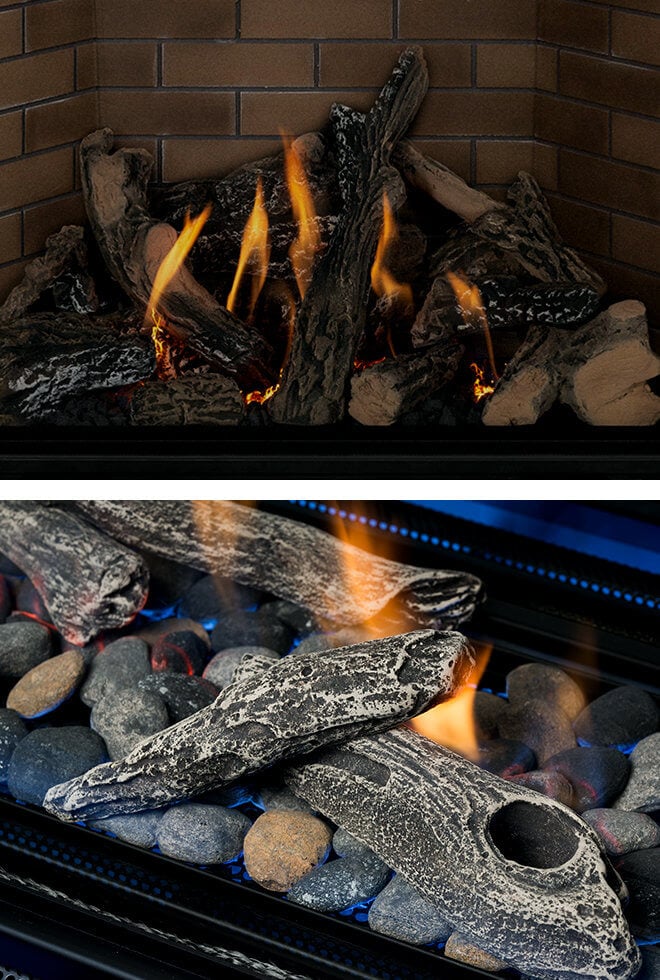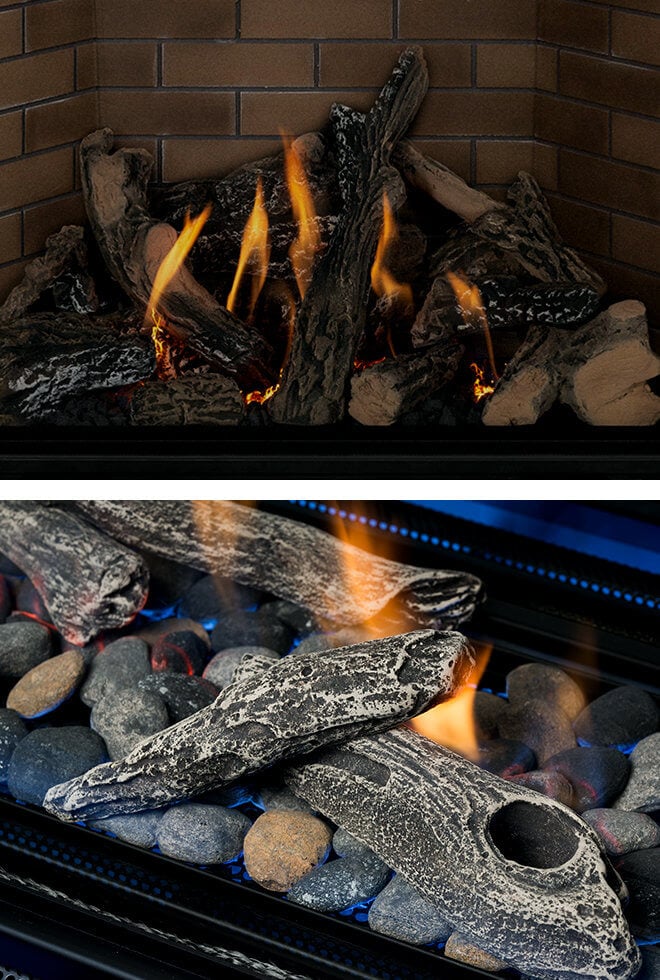 Logs & Driftwood
If you are a fan of traditional wood burning fires, but not the messy cleanup, then fiber logs or driftwood for gas burning fireplaces could be just what you're looking for.
Contemporary technology makes the most realistic looking wood logs possible, right down to the blackened char marks, splits and knots of the real thing.
Shown at left (from top):
Split Oak Logset (DelRay Square 46)
Driftwood & Speckled Stones *ordered separately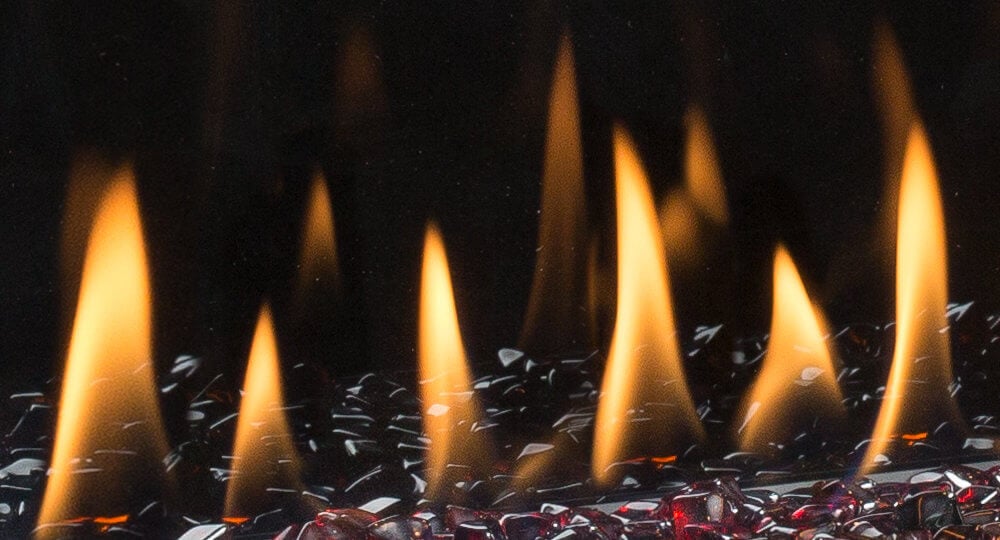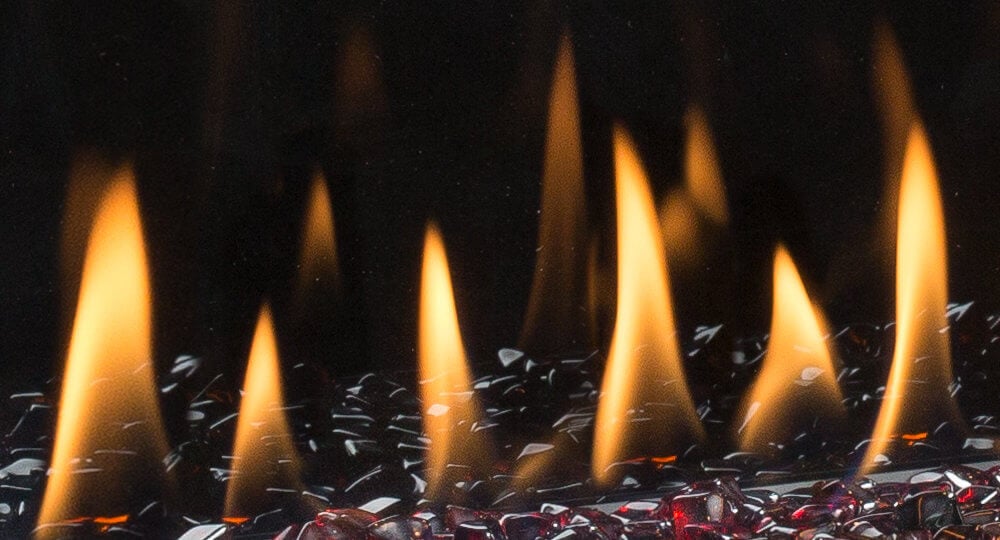 DELRAY LINEAR
Add a new dimension to your fireplace…
A black reflective glass liner takes the already impressive Montigo flames and projects them handsomely across the back of the unit, filling the firebox with fire. Standard in the full load versions of the DelRay Linear, or added as an optional accessory in the basic versions.
DELRAY SQUARE
Make it your own…
With 7 different options, the DelRay Square has the greatest variety of liners in the Monitgo family. Shown top row from left to right:
Red Brick
Grey Herringbone
Grey Ledgestone
Tan Brick
Vintage Brick
Shown bottom row from left to right:
Black Reflective Glass
Ash Fluted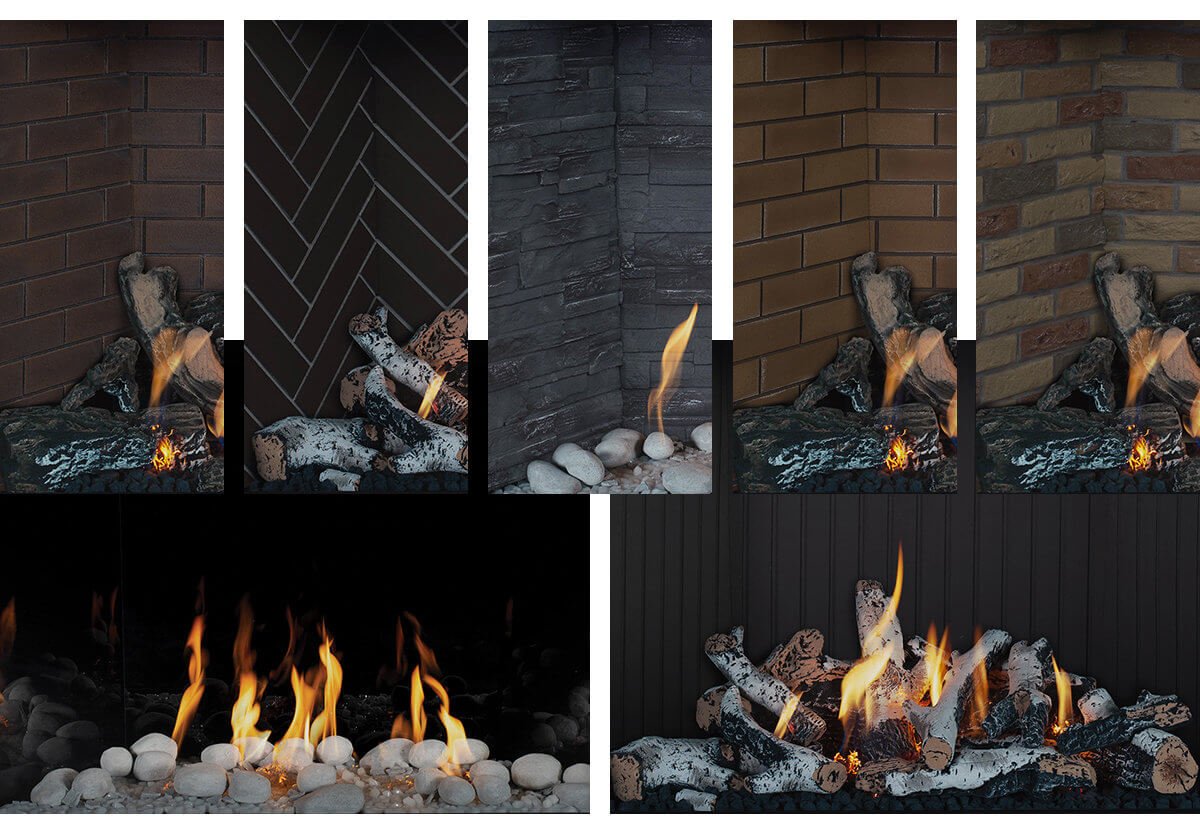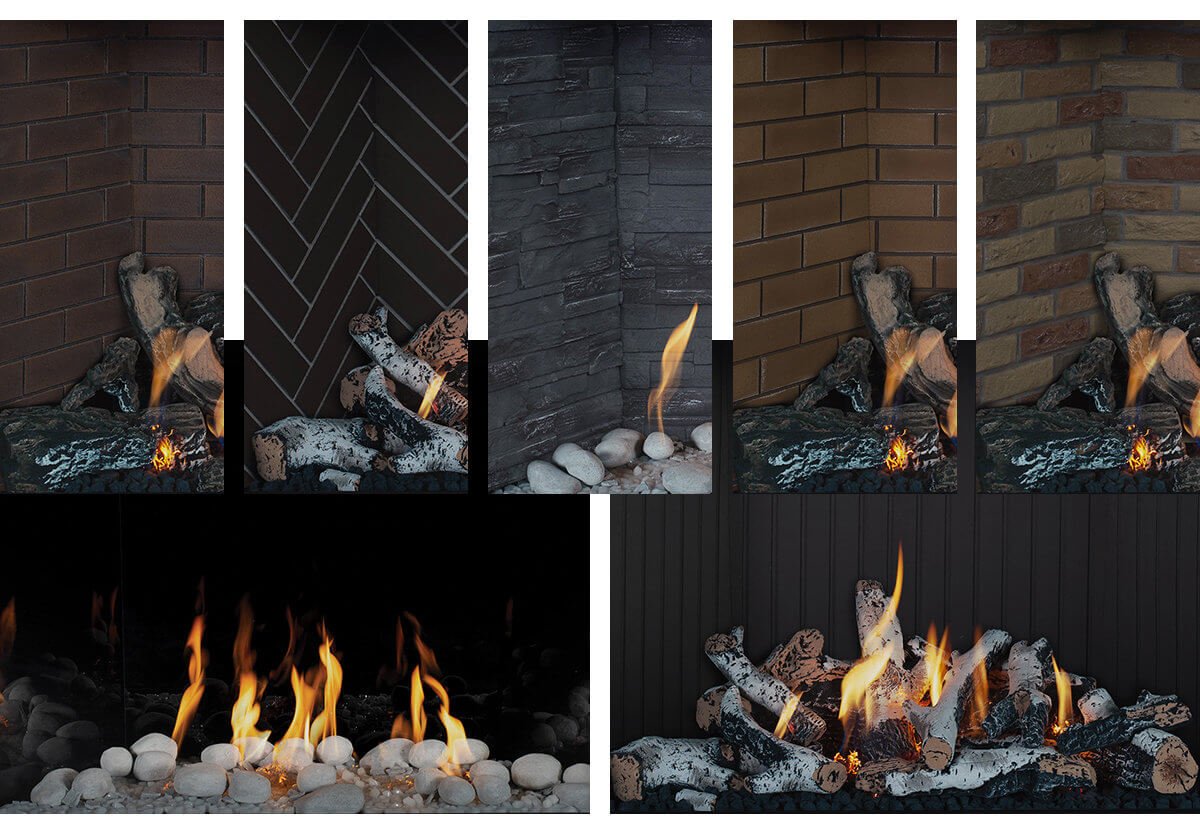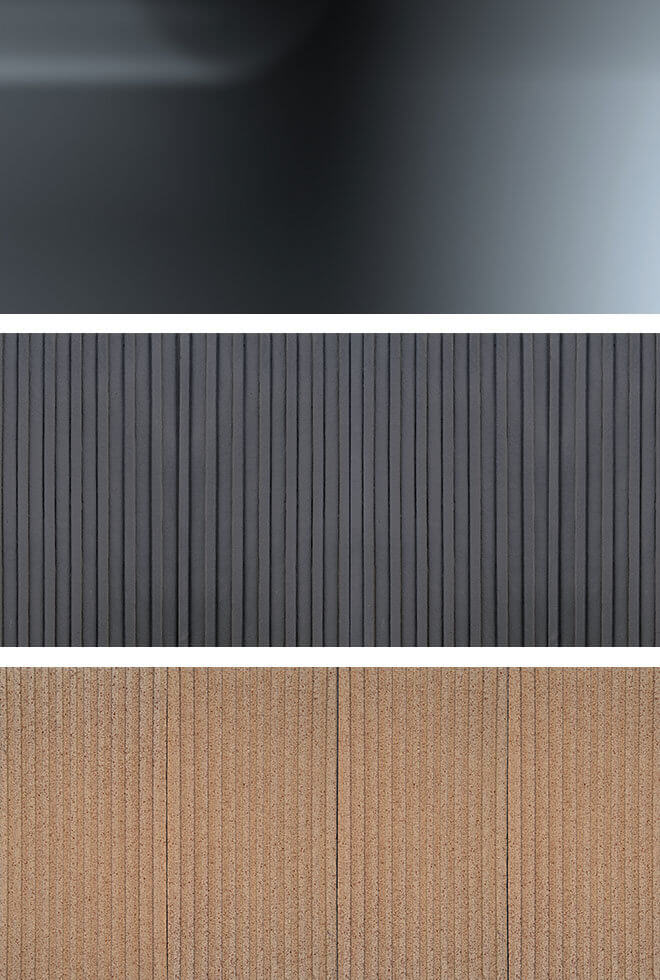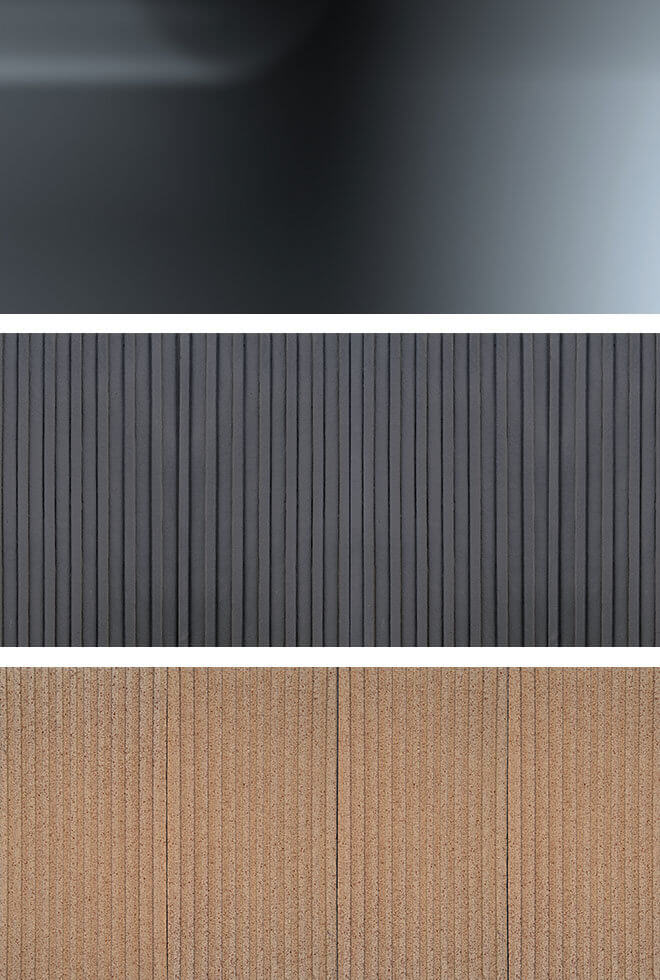 DISTINCTION
3 distinct liner options…
The Distinction comes standard with our modern black reflective glass panels. For a more unique look, fluted liners in an Ash or Tuscan finish are available.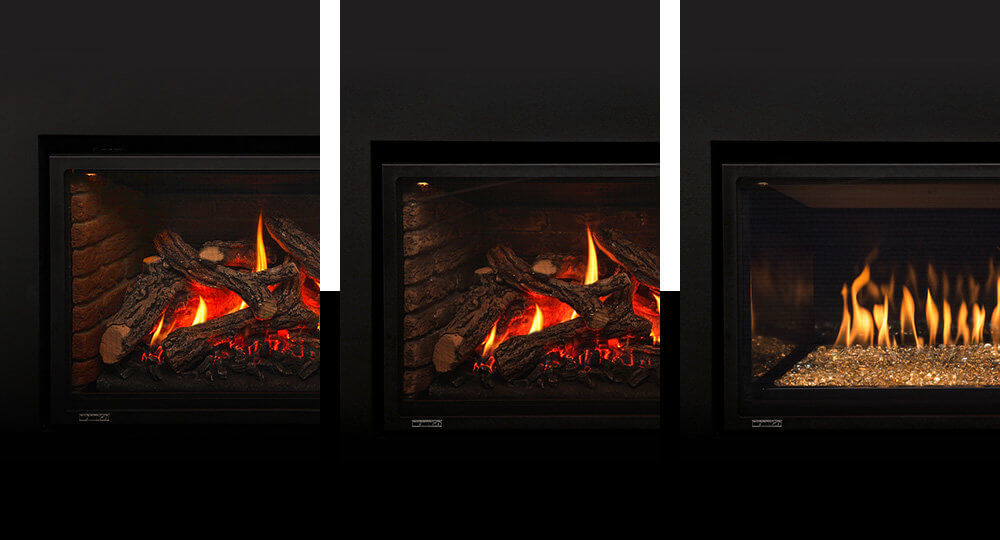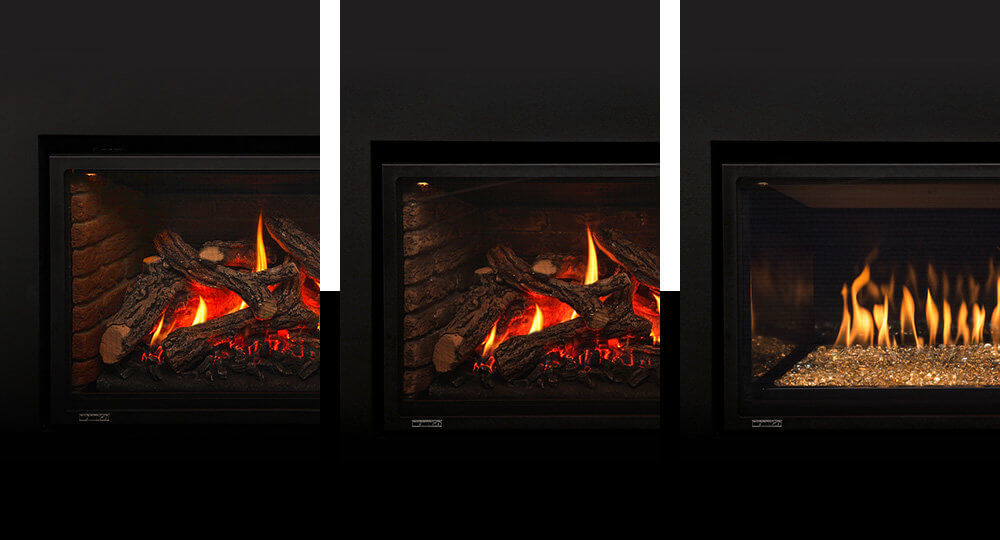 ILLUME
Our Illume traditional inserts give you the choice between two incredibly detailed red and brown ceramic brick liners. The contemporary version of the Illume comes standard with our flame enhancing Black Porcelain liners.
Note: Liners are a required item for traditional versions of the Illume insert.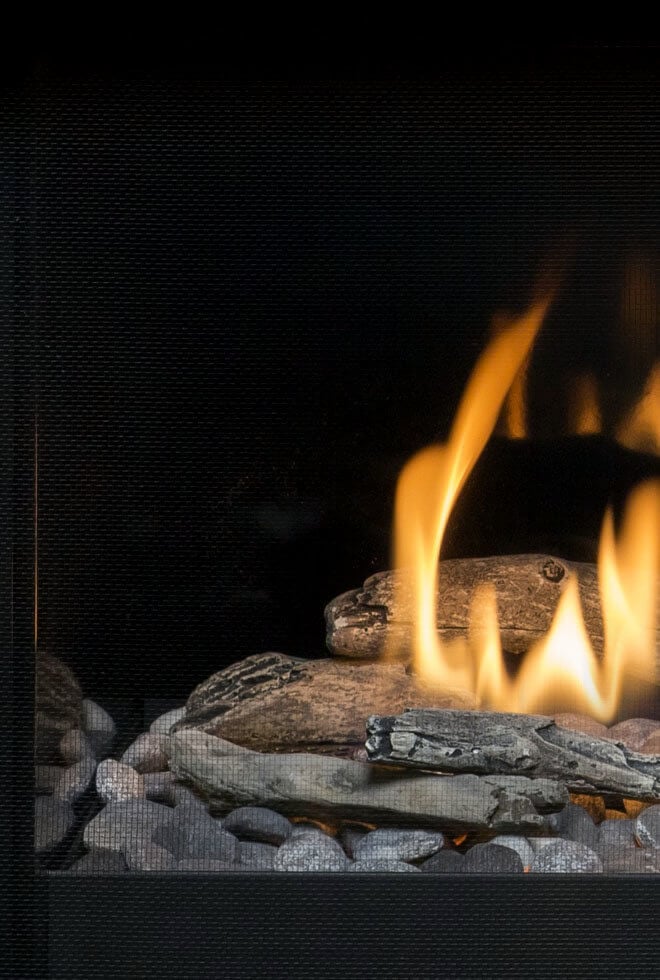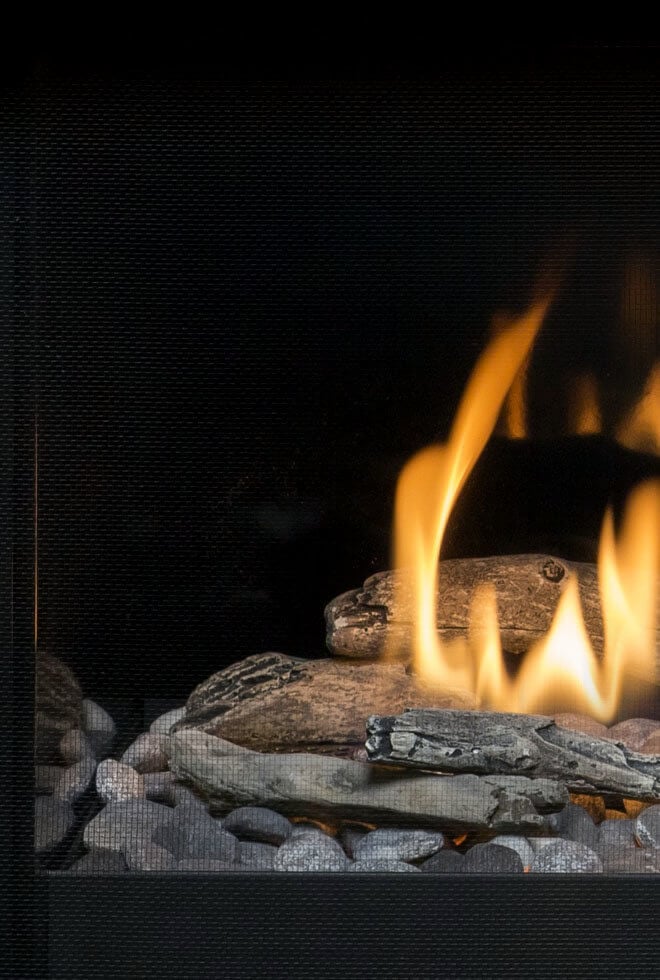 PHENOM
Single Sided Phenom fireplaces either come standard or have the option of adding Black Porcelain liners, depending on whether you order the full load (P) or basic (PL) version of the Phenom.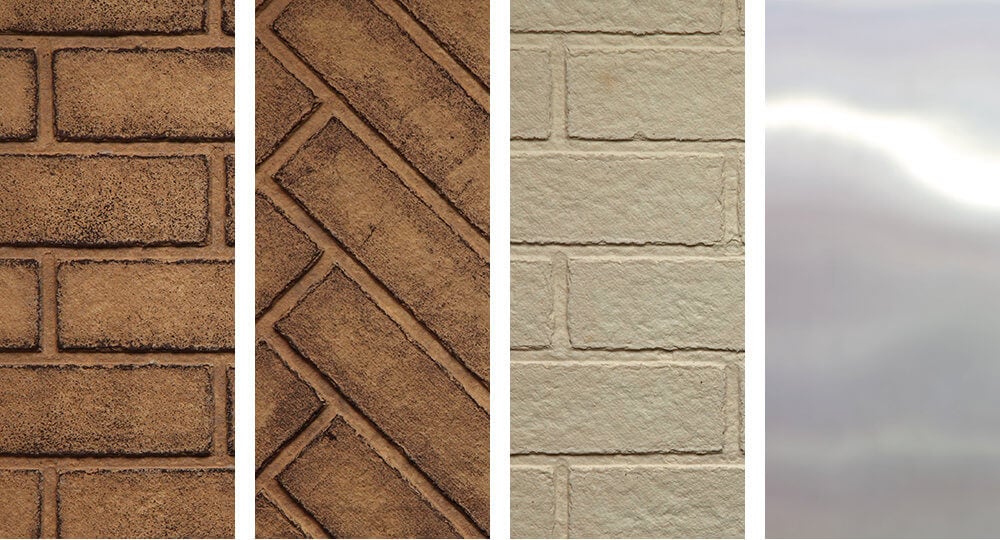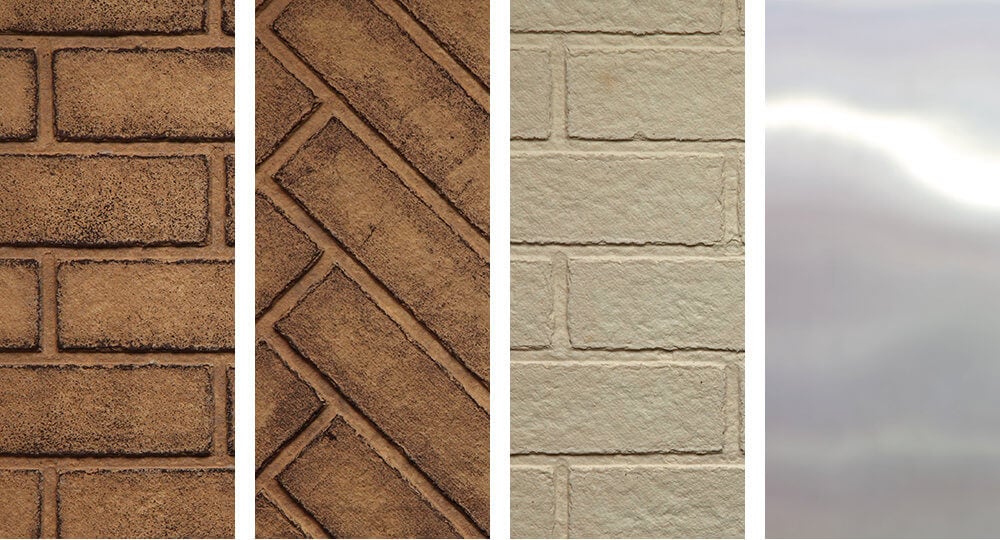 DIVINE OUTDOOR
For the single sided versions of the Divine Outdoor fireplace, we offer a selection of traditional brick liners. Or for a more contemporary look, you can pair the fireplace with a Mirror liner.
Shown from left to right:
Heritage
Herringbone
Colonial
Mirror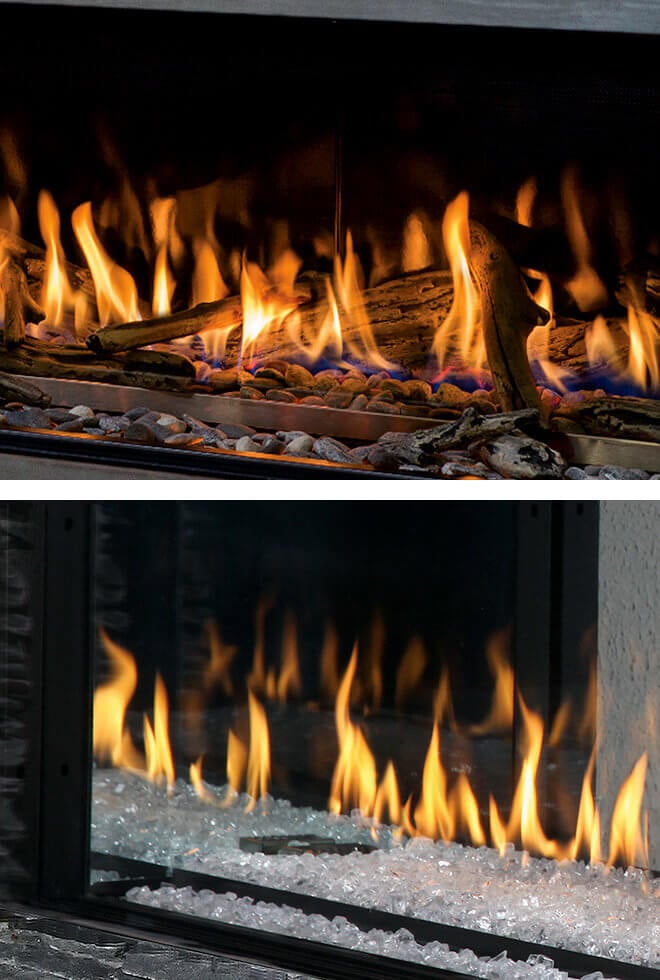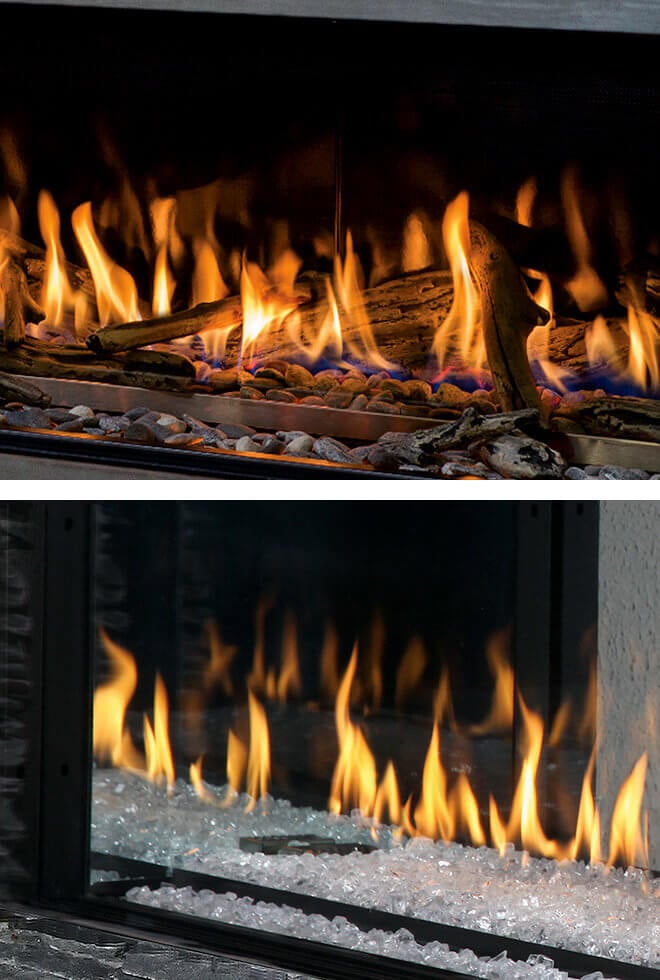 Exemplar
Make it your own…
Black porcelain graces the back of the Exemplar RP620 and is available as an option on the R324STIO. For the Exemplar RP424 we created a truly unique liner – a mirrored panel that perfectly extends the firebox into a new dimension.