DelRay Square
DRSQ42 DelRay Square
DelRay Square Basic
Standard:
Concealed universal burner, manual hi-lo flame control
Options:
Heat management, adjustable trim kit, remote control Fans, micro mesh screen, traditional and contemporary liners, propane conversion kit, battery backup, traditional logsets, contemporary scenes, Speckled Stones, glass media
Specs at-a-glance:
Max BTU (NG)

32,500
Framing Width

45"
Framing Height

51"
Framing Depth

22"
Glass Opening Width

37 11/16"
Glass Opening Height

26 7/8"
Inner Vent Size

5
Outer Vent Size

8
Commercial

no
Customizable

no
P.4. 1-15 Efficiency NG

63.1%
P.4. 1-15 Efficiency LP

63.0%
A More Flexible Fireplace You Can Redesign Anytime!
Introducing the DELRAY Square DRSQ42. This Flexible gas fireplace features sleek contemporary styling and a small footprint that's perfect for new construction and retrofit installations at minimal impact to floor space.
The DELRAY Square is a high efficiency, mobile home compatible fireplace that is ready to customize with any of our stunning logsets or contemporary scenes. Combustible wood facing can be installed right down to the glass opening.
The universal burner system is not only convertible from natural gas to propane, but can switch from traditional to contemporary burner media scenes without changing the burner system.
Additional features include heat management, propane conversion kits, trim kits, and more.
---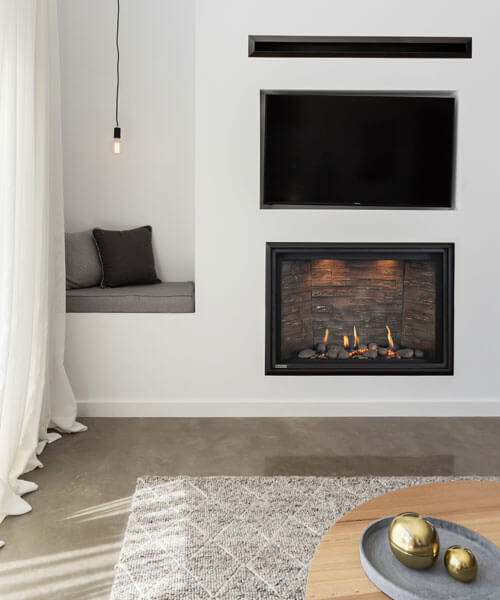 Heat Management
Cool Wall Solutions
Because today's homeowners often want to mount a TV or artwork above their fireplace, heat management and keeping a cool wall is a top concern. Gas fireplaces put out a considerable amount of heat and that can damage delicate electronics. That's why Montigo has several options for heat control and heat redirection.
---
Fireplace Design Inspiration
Hottest Trends in Fireplace Design
Whether you want to freshen up an existing fireplace with a change of mantel, a bit of paint, a full design overhaul, or replace the unit and create a masterpiece. There are a lot of ways to upgrade and endless materials to choose from.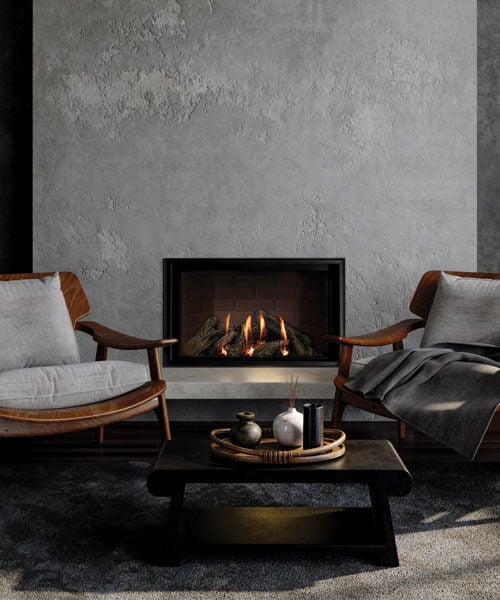 ---