Prodigy
PCCL3/PCCR3 Custom Corner Fireplace
Prodigy Custom Corner Fireplace Features
Configurations: Single sided, see through, corner, bay
Burner Styles: Ribbon, high-low
Burner Media: Driftwood, stones, glass
Accessories: COOL-Pack glass system, multi-color LED lighting, intake dampers, indoor-outdoor seal kit for see through units, black reflective glass, flue gas dampers
Specs at-a-glance:
Max BTU (NG)

40,000
Framing Width

42 1/4"
Framing Height

23 1/4"+ Glass Height
Framing Depth

19 1/4"
Glass Opening Width

39 3/4"
Glass Opening Height

12" - 60"
Commercial

Yes
Customizable

Yes
A Custom Gas Fireplace Perfect for Luxury Homes or Light-Use Commercial Applications
Introducing the Prodigy Series, the epitome of luxury and sophistication in the world of gas fireplaces. This commercial-grade marvel is designed to elevate any living space with its unmatched features and customizable design. The Prodigy allows you to tailor the height and width of the fireplace, ensuring it seamlessly integrates into your home or light-use commercial setting. Available in single sided, double-sided see through, 2-sided corner, and 3-sided bay configurations, there is a Prodigy to suit any project. Whether you seek a grand statement piece or a more understated focal point, the Prodigy is the perfect fit.
Safety is paramount, and the Prodigy Series takes it to the next level. Its innovative construction allows for zero clearance to combustible finishing materials, giving you the freedom to finish it with wood, install a TV above, or install it in close proximity to other sensitive materials without compromising safety. A purely decorative appliance, the Prodigy does not produce ambient heat, making it perfect for public spaces and climates where added heat is not desired. Furthermore, our patented COOL-Pack cool-touch glass technology ensures that the exterior remains safe to touch even when the fire blazes at its hottest, providing added peace of mind, especially in homes with children or pets. Unlike traditional gas fireplaces, the Prodigy doesn't require a safety screen, maintaining a sleek and unobtrusive appearance without compromising safety.
Enhancing its allure, the Prodigy gas fireplace comes equipped with multi-color LED lighting, allowing users to set the ambiance according to their preferences. Whether it's a cozy and warm glow for intimate evenings or a vibrant spectrum of colors for lively gatherings, this fireplace adapts to suit various moods and occasions. The Prodigy is also compatible with most home automation systems.
Ideal for luxury homes or light commercial applications, the Prodigy Gas Fireplace brings an unparalleled level of opulence and ambiance to any space. Its premium materials and exquisite craftsmanship speak to its status as a top-tier fireplace, perfect for those who value both functionality and aesthetics. Whether it's a lavish living room, an upscale hotel lobby, or a trendy restaurant, the Prodigy is the ultimate statement piece, setting the stage for memorable moments and unforgettable experiences. Experience the Prodigy Gas Fireplace, where elegance, safety, and customization come together to create an unparalleled atmosphere of warmth and allure.
---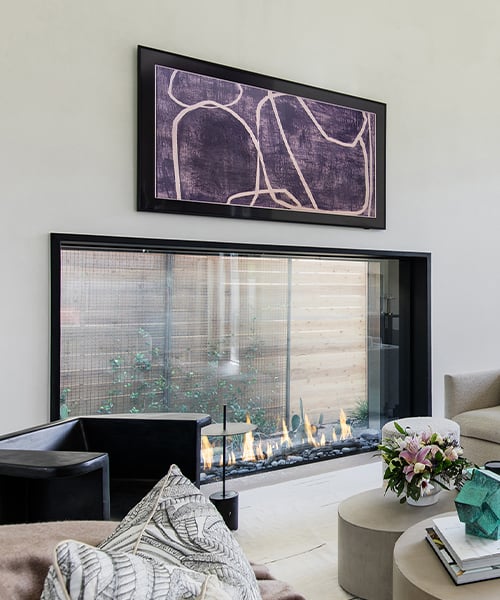 Montigo's Prodigy Featured in a Luxury Residential Showhouse
Stay Bungalow in Austin, Texas
Stay Bungalow is home to the largest see through Prodigy Series model available – 8-feet wide by 60-inches tall – complete with a fully sealed indoor-outdoor kit. Installed flush to the floor, the fireplace opens up an already bright and spacious room and provides an unobstructed view to the Zen Garden outside. A true showstopper!
---
Light Commercial Heat Management
COOL-Pack Glass Systems for Custom Commercial-Grade Fireplaces
Montigo's patented COOL-Pack and Power COOL-Pack glass technologies have been designed to significantly increase safety by maintaining glass temperatures as low as 115˚F (46˚C).
COOL-Pack technology makes it safe to touch the glass, reducing associated liability risks for the property owner.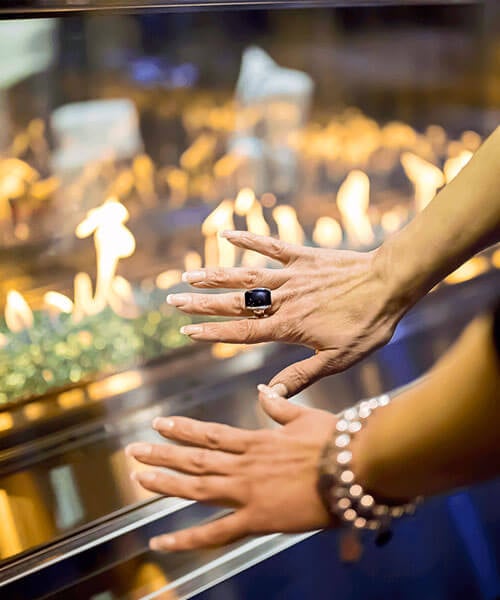 ---