Oh, that's cool.
COOL-Pack Cool Touch Glass Systems for Fireplaces
Did you know that Montigo has offered double glass on their Custom Commercial fireplaces for over 20 years? Our patented COOL-Pack cool touch glass systems not only control glass temperature, they limit liability in public spaces, and allow for an unrestricted view of the flames. While there are many imitations in the market these days, no other manufacturer can do what Montigo can.
COOL-Pack System Features & Applications
Our COOL-Pack system design uses two layers of frameless glass, which funnels the combustion air pulled into the fireplace. This creates a passive air wash across the outer glass, resulting in a significant reduction in surface temperatures. With the safety standard threshold requiring any touchable surface to be less than 172°F we are often well below the requirement. Due to varying installation parameters such as vent lengths and source of combustion air, it is impossible to guarantee a specific operating temperature once the unit is in the field.
While most other manufacturers have a manual fan speed control inside the fireplace, our external inverter allows the ability to increase the speed of the airflow, reducing the temperatures without having to take the fireplace apart.
What makes our system unique is the external control panel, which houses a 3-phase inverter supplying power to the power vent. Our Hedy industrial grade inverter has a digital screen for easy reading, diagnosing, and adjusting in field conditions.
Power COOL-Pack Cool Touch Glass System
Our patented Power COOL-Pack design further reduces the surface temperatures to as low as 110-130°F by providing internal commercial grade fans to force air between the two layers of glass at a much higher and consistent rate. The heated air is dumped outside through the exhaust and is never pushed back into the room, maintaining the same operating temperature regardless of the length of use. With Power COOL-Pack, there is an additional inverter driving the fireplace fans that allow for greater temperature control because the user can increase the power vent speed and internal fan speed to lower the glass temperature.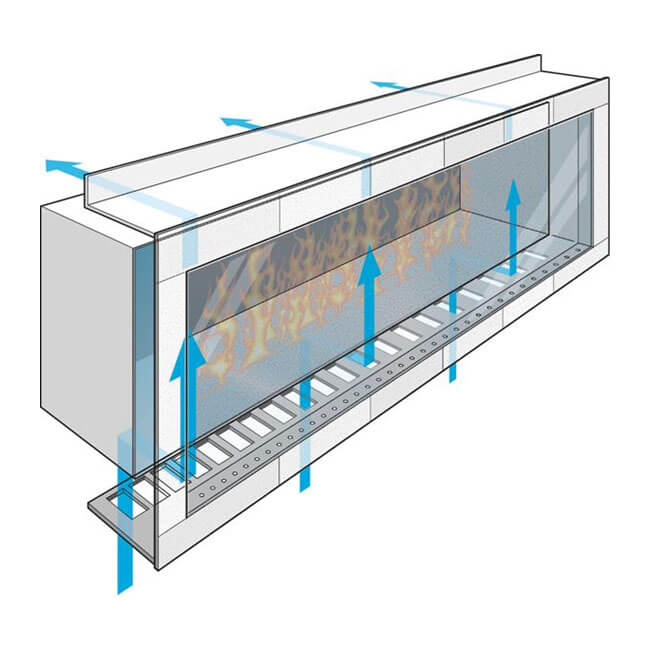 Some applications require our Power COOL-Pack system. Projects in nursing homes, assisted living, and healthcare facilities are a prime example. Decorative fireplaces in these environments should not exceed 135°F. Otherwise, a full aftermarket screen that extends up to 9-inches from any of the hot surfaces is required. (source: Minnesota Department of Health) Lower temperatures may not be a requirement in some sectors. However, it is strongly advised to use Power COOL-Pack in public spaces like stadiums, restaurants, and educational buildings. The system protects the public as well as those deemed liable.
Other Useful Reasons for Using Power COOL-Pack:
Redundant dual pressure switches prevent a fireplace being tricked by negative pressure
Acts as a booster for combustion air allowing for longer or more restrictive intake runs
Provides consistent airflow around the box reducing "hot spots", which you would normally see towards the top of the glass and in configurations like pier
Double glass systems also solve the safety screen dilemma. Consumer safety standards mandate screens in an effort to prevent at-risk people from touching the hot surface of a fireplace. Reduced glass temperatures eliminate the need for a safety screen altogether. COOL-Pack and Power COOL-Pack systems provide a clean finish and unobstructed view that works particularly well with multi-sided units.
Montigo works closely with architects and designers to engineer, handcraft and install awe-inspiring, bespoke fireplaces for one-of-a-kind spaces. We collaborate with you to create a sense of space with our fireplaces.
For more information on working with Montigo, visit the Professionals Resource Center. Our Custom Commercial team is ready to design the perfect fireplace for your project