Distinction
D7215 Modern Gas Fireplace
Distinction Modern Gas Fireplace Features
Standard:
Concealed burner with Ice fireglass, multi-function remote control, remote Hi-Lo flame control, remote controlled fans, micro mesh screen, black reflective glass, multicolor LED uplighting, battery backup
Options:
Cool Wall Advantage kit, propane conversion kit, adjustable trim kit, fluted liners, WiFi phone app control
Specs at-a-glance:
Max BTU (NG)

57,000
Framing Width

95 3/4"
Framing Height

59 3/8"
Framing Depth

18 1/2"
Glass Opening Width

73 7/8"
Glass Opening Height

15 1/2"
Inner Vent Size

5
Outer Vent Size

8
Commercial

No
Customizable

No
P.4. 1-15 Efficiency NG

73.86%
P.4. 1-15 Efficiency LP

74.54%
The Perfect Combination of Performance & Design
The DISTINCTION is an ultra modern single sided direct vent gas fireplace with a generous landscape viewing area and concealed linear burner. Every size in the lineup comes fully loaded, including LED lighting, and a multi-function Proflame 2 remote control.
The DISTINCTION fireplace is designed to elevate your home's aesthetics while providing efficient and cozy heating, making it the ideal centerpiece for your living room or any other gathering area. The sleek and modern linear design adds a touch of sophistication to any room. Clean lines and minimalist profile ensure it seamlessly integrates into various interior styles, making it a versatile addition to your home décor.
The stunning flame is further enhanced with the addition of a non-intrusive micro mesh screen, black reflective glass panels and the convenience of a 30% turndown. For further heat control, we recommend our full range of Cool Wall Advantage heat management kits, which are compatible with every configuration of the DISTINCTION series.
---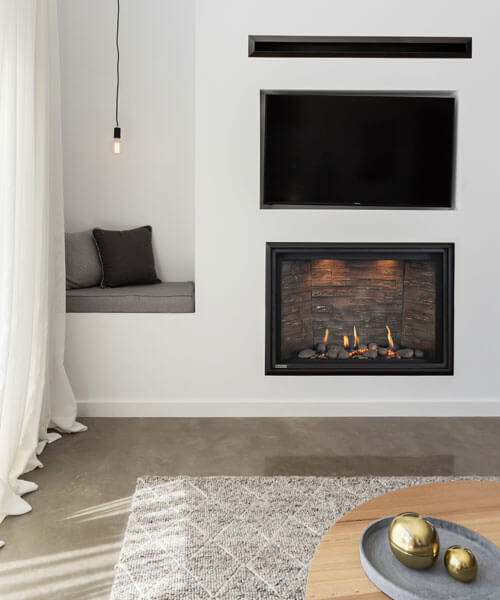 Heat Management
Cool Wall Solutions
Because today's homeowners often want to mount a TV or artwork above their fireplace, heat management and keeping a cool wall is a top concern. Gas fireplaces put out a considerable amount of heat and that can damage delicate electronics. That's why Montigo has several options for heat control and heat redirection.
---
Fireplace Design Inspiration
Hottest Trends in Fireplace Design
Whether you want to freshen up an existing fireplace with a change of mantel, a bit of paint, a full design overhaul, or replace the unit and create a masterpiece. There are a lot of ways to upgrade and endless materials to choose from.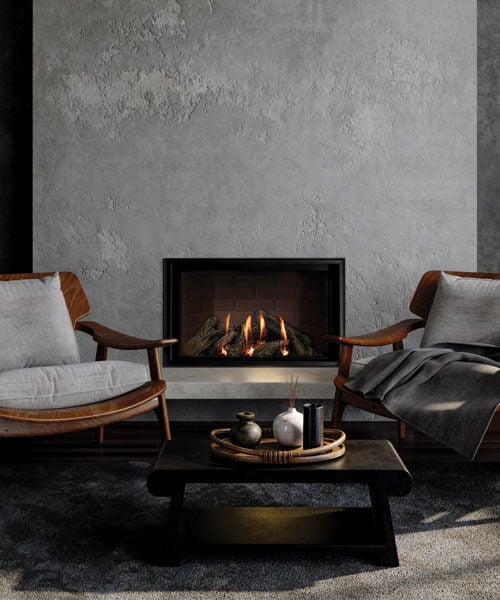 ---