Outdoor Gas Fireplace Safety
Adding an outdoor gas fireplace is at the top of the wish list for most homeowners when designing or updating their outdoor spaces.
The popularity of outdoor fireplaces is not surprising, we have been worshiping fire since the moment we discovered it. Fire represents the heart of the home, and it is no different when we gather in nature. Sitting around a fire in the great outdoors evokes our best childhood memories of campfires surrounded by friends and family. Nothing creates a welcoming and intimate atmosphere like a fireplace.
However, introducing a fire feature to your outdoor space comes with increased risk. Fortunately, there are some simple safety guidelines you can follow to manage the risk and protect your loved ones and property.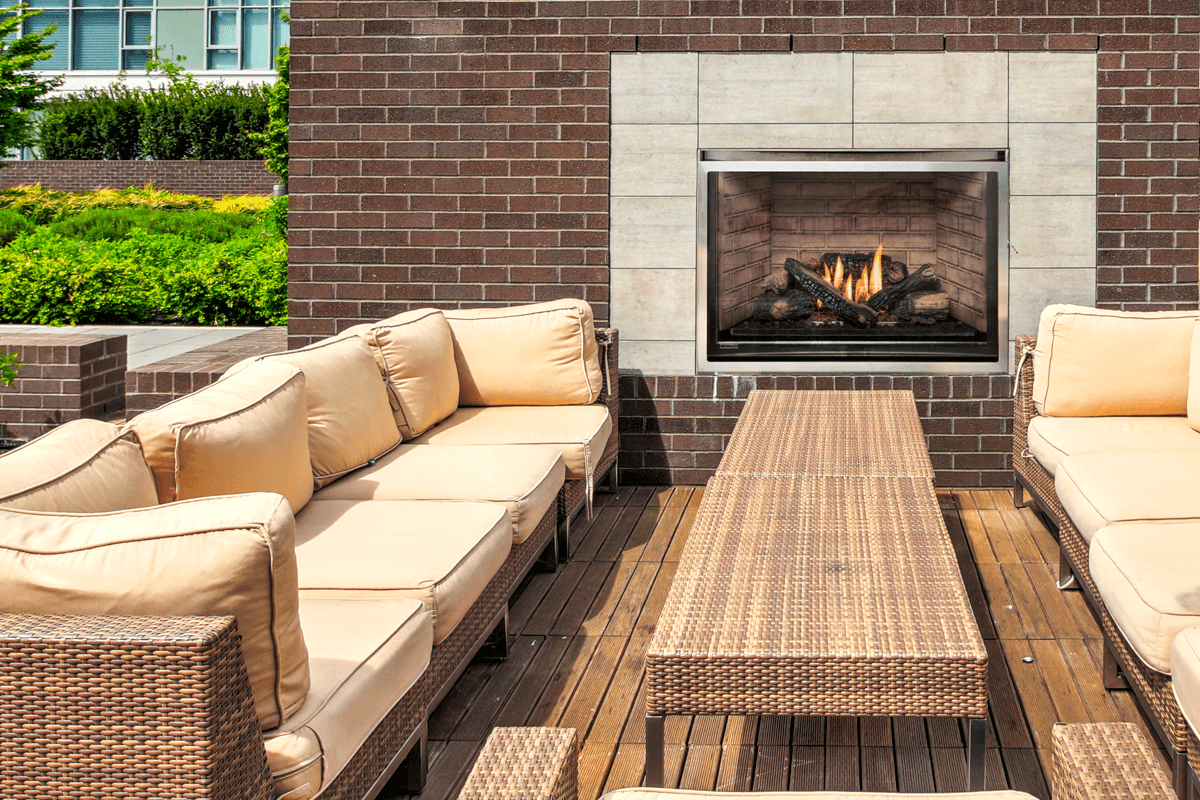 This safety guide, specifically for outdoor gas fireplaces, can help reduce the risk of injury and accidental fires.
1. Regularly Clean & Service Your Outdoor Fireplace
Even ventless fireplaces need regular service and maintenance. The Hearth, Patio & Barbeque Association (HPBA) recommends having gas fireplaces professionally inspected and cleaned annually.
An inspection should include checking the firebox for cracks or damage, and the exterior of the fireplace for structural integrity. Gas lines and connections should be checked for condensation, the burner, control compartment and venting ports cleaned and cleared of any debris. Finally, clean the glass and safety screen to enjoy an unobstructed view of the flames.
2. Inspect Your Fireplace Before Each Use
A major perk of outdoor gas fireplaces is the lack of ash, embers and messy clean up. However, that doesn't mean they are completely maintenance free. You'll still need to check the unit before each use.
Keeping the unit covered between each use can help keep it free from combustible materials like falling leaves or other debris. A cover also protects the finish and wards off damage from inclement weather.
3. Have a Fire Extinguisher Close By
This is one of those "better to have it and not need it" situations. Outdoor gas fireplaces are exceedingly safe, but accidents do happen. Should the worst occur, it's best to be prepared.
Keep a dry-chemical fire extinguisher (class B or C or multipurpose) stored in an easily accessible place nearby. Most portable extinguishers have a range of 6-10 feet so quick access is important.
Make sure you know how to use a fire extinguisher effectively before you need it. The acronym "PASS" is easy to remember:
Pull the pin
Aim at the base of the fire
Squeeze the trigger gently
Sweep the nozzle in a side-to-side motion
4. Maintain A Safe Perimeter Around Your Outdoor Fireplace
Refer to your unit's installation manual for specific structure or combustible material clearance requirements. Once installed, you will need to always maintain a perimeter free from any potentially flammable materials.
Trim bushes, shrubs, plants, and any low hanging tree limbs or branches near your outdoor fireplace. Do not store cleared yard debris, such as dead grass and raked leaves, within ten feet of your fire feature.
Keep outdoor furniture, soft décor, and other flammable materials at least three feet from your fireplace. The three-foot rule works for kids and pets too. Safety screens, glass doors, and other barriers can still get quite hot, so wandering hands and curious noses are at risk to burns. It is good practice to never leave kids or pets unattended by an adult while the fireplace is burning.
5. Never Leave a Fire Unattended
Another huge perk of outdoor gas fireplaces is having fire on demand. This feature makes it easy to never leave your fire unattended.
When things get out of hand, it usually happens in a split second. Always have someone in charge of keeping an eye on the fire. If there is no one to watch the fire, extinguish the flame and turn off the gas when leaving the outdoor space. Never, ever leave an outdoor fireplace burning overnight.
6. Make Use of Safety Features & Accessories
Safety Screen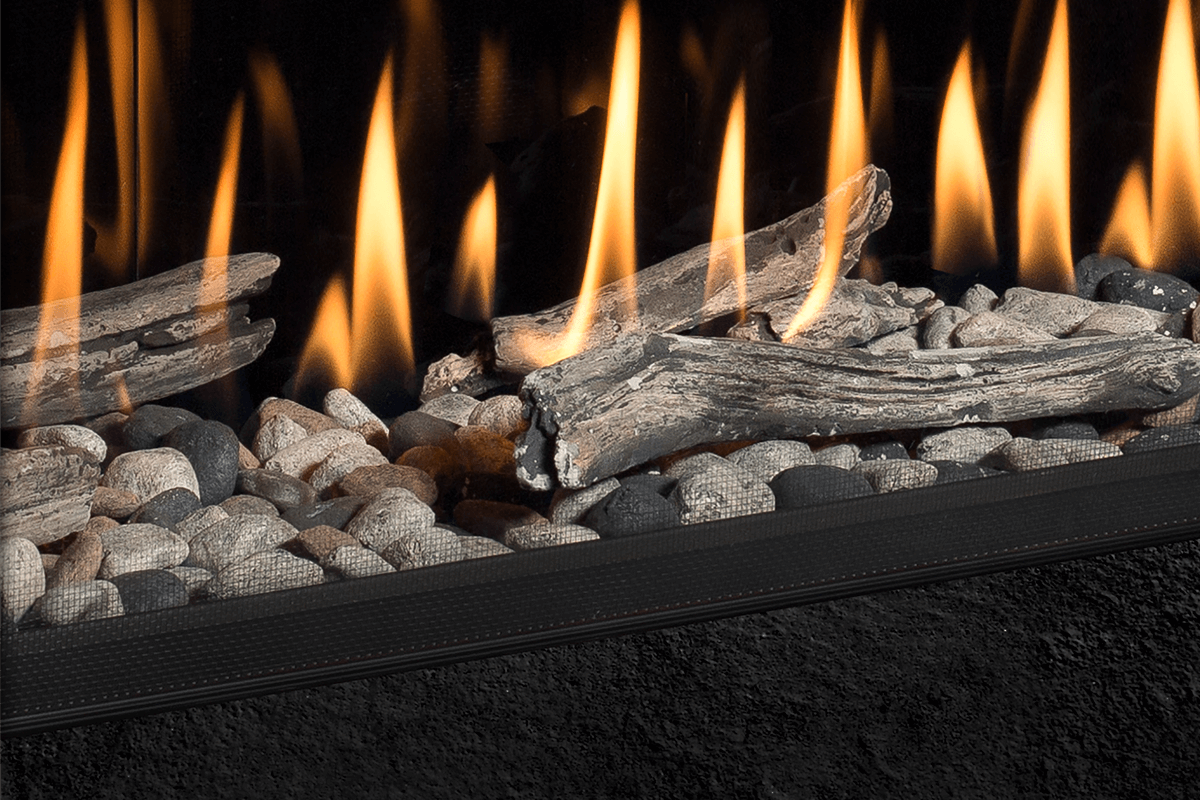 Always use your fireplace's safety screen. The solid glass front on a fireplace can reach very high temperatures, enough to cause a serious burn with direct contact.
Montigo's outdoor gas fireplaces come standard with a micro mesh safety screen. The micro weave screen is almost invisible and does not impede your view of the flame while creating a barrier to hot glass.
Cool-Touch Enclosure
Some Montigo outdoor fireplaces have the option of a cool-touch enclosure. Crafted from 304 stainless steel, the enclosures are easy to assemble and eliminate the need for a complicated installation.
The fireplaces themselves put out a significant amount of heat to warm the summer nights, but the enclosure remains cool to the touch. Coupled with a micro mesh safety screen, these fireplaces help keep children, guests, and pets safe from direct contact with high temperature surfaces.
The Mahana series is also listed for wood frame construction and combustible material finishing, which makes this unit the most versatile choice for outdoor spaces. You can even mount a TV directly above the fireplace!
Montigo Outdoor Gas Fireplaces
The Mahana enclosure is also available in a selection of beautiful powdercoated colors to coordinate with your décor.
Outdoor Fireplace & Firepit Safety
Having an outdoor gas fireplace comes with some risk and responsibility. Knowing and practicing a few basic safety rules can help you enjoy your fire feature while keeping your loved ones and property safe.