Specs at-a-glance:
Max BTU (NG)

45,000
Framing Width

41"
Framing Height

38"
Framing Depth

23 7/8"
Glass Opening Width

35 1/4"
Glass Opening Height

24 7/8"
Commercial

No
Customizable

No
The DIVINE See Through Ventless Outdoor Fireplace
An indoor classic, elegantly adapted for the outdoors. The DIVINE Outdoor series is a collection of exquisite see through ventless outdoor gas fireplaces designed to bring a touch of luxury and sophistication to your outdoor living space.
Crafted with precision and attention to detail, the DIVINE Outdoor series offers unparalleled beauty and warmth, making it the perfect centerpiece for your outdoor gatherings. The classic square shaped viewing area and stainless steel firebox is rugged enough to withstand the elements and remain beautiful for years to come. The mesmerizing see through design allows you to enjoy the dancing flames from multiple sides. This unique feature creates an enchanting ambiance and adds a sense of openness to your outdoor area.
Elevate your outdoor living space with the DIVINE Outdoor series and immerse yourself in the allure of its enchanting flames. Whether it's a cozy evening with your loved one or a festive gathering with friends, a DIVINE Outdoor fireplace will undoubtedly become the heart of your outdoor oasis. Experience the perfect blend of elegance, warmth, and convenience with this extraordinary ventless gas fireplace series.
---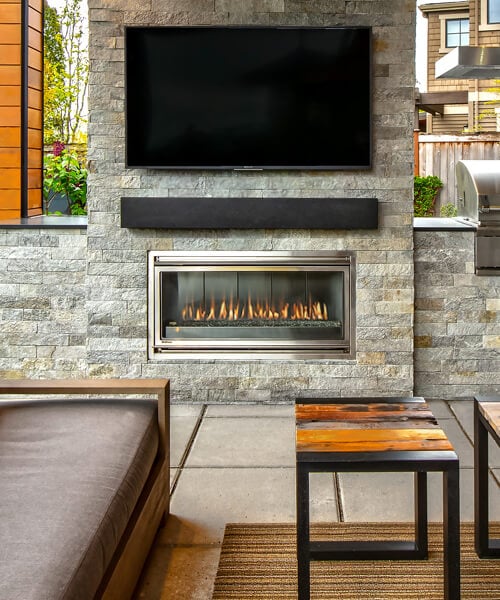 The Warmth & Comfort of Your Living Room, Now on Your Patio
A fireplace can transform a patio and extend the use of your outdoor space well into Fall. All Montigo outdoor fireplace models are fabricated with high quality 304 stainless steel for extended outdoor life.
From traditional brick liners, all the way to modern multi-color LED lighting, our outdoor fireplaces have numerous options for customization.
---
A 5-Step Plan for a Stunning Outdoor Gas Fireplace Renovation
The modern backyard is simply an extension of our living space. A sanctuary where we can relax, entertain, and create lasting memories with loved ones. If you're looking to elevate your outdoor experience, an outdoor gas fireplace can be the perfect addition.
Transform your backyard into a cozy haven with a 5-step plan for a remarkable backyard renovation.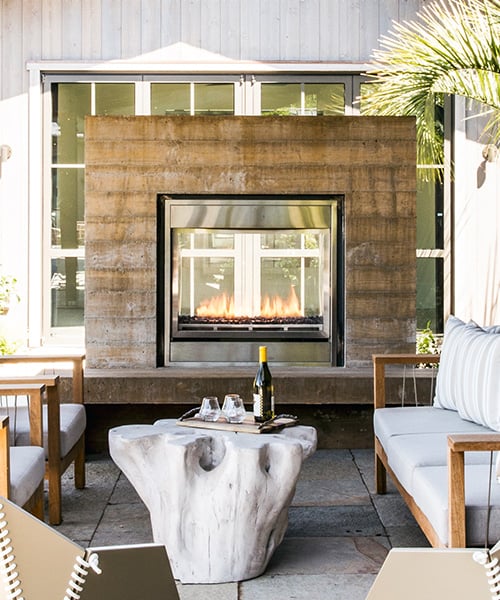 ---