Outdoor
Mahana 42″ Outdoor Gas Fireplace
MAHANA Outdoor Gas Fireplace Features
Standard:
Concealed burner with Quartz firebeads, built in fan system, safety screen
Options:
Specs at-a-glance:
Max BTU (NG)

28,000
Framing Width

42"
Framing Height

32 1/2"
Framing Depth

11 5/8"
Glass Opening Width

37 1/4"
Glass Opening Height

14 1/8"
Commercial

No
Customizable

No
Redefining Outdoor Spaces
The MAHANA 42″ PL42VO outdoor gas fireplace brings the warmth & comfort of your living room to your patio. The MAHANA's sleek design combined with glass door and screen create a truly wind and weatherproof outdoor fireplace.
The MAHANA Series is listed for wood frame construction and finishing, which makes this unit the most versatile choice for outdoor spaces. You can even mount a TV directly above the fireplace!
All Montigo outdoor gas fireplaces and enclosures are fabricated with high quality 304 stainless steel for extended outdoor life.
---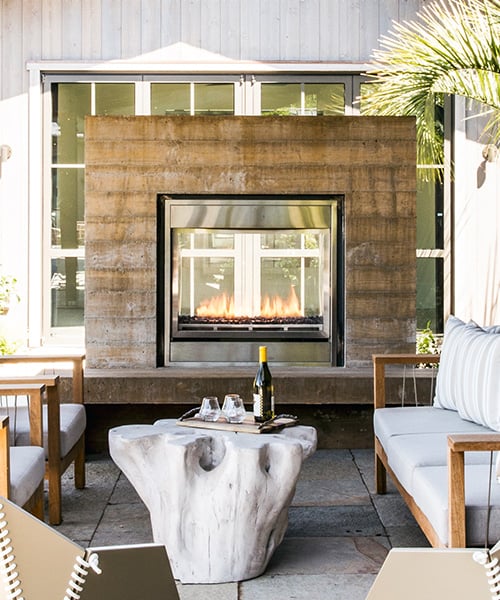 A 5-Step Plan for a Stunning Outdoor Gas Fireplace Renovation
Transform Your Backyard Oasis with an Outdoor Gas Fireplace Renovation
The backyard is an extension of our living space, a sanctuary where we can relax, entertain, and create lasting memories with loved ones. If you're looking to elevate your outdoor experience, an outdoor gas fireplace can be the perfect addition. Not only does it bring warmth and ambiance, but it also serves as a focal point, transforming your backyard into a cozy haven. In this article, we'll guide you through a 5-step plan for a remarkable backyard renovation with an outdoor gas fireplace, turning your outdoor space into a breathtaking retreat.
---