Tornado
Tornado | A Torch Style Fireplace
Tornado Torch Fireplace Features
Viewing widths standard from 24″ to 36″, custom sizes are available
Single sided, see through and four sided configurations
See through indoor-outdoor sealing kit available
COOL-Pack or Power COOL-Pack technology for advanced cool-touch safety
Power venting up to 500 feet with custom termination options available
All systems are tested and CSA Certified in Montigo's on-site lab
The Ultimate in Flexible Commercial Grade Custom Gas Fireplace Solutions
Our most exciting product uses a unique air vortex torch style burner to create a stunning three-foot spiraling column of flame!
Ideal for creating a show stopping centerpiece in any room. The custom commercial Tornado, a torch style fireplace system, is a highly customizable unit that can be placed almost anywhere.
With unlimited firebox configurations, multiple burner styles, and almost limitless possibilities for intake and termination, Montigo's C View custom gas fireplace sets the gold standard for commercial fireplace installations.
High quality burner media options make it easy to create a look to enhance any décor.
---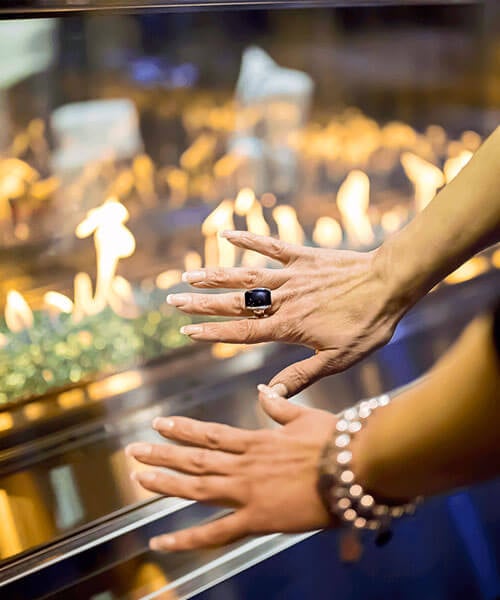 Commercial Heat Management
COOL-Pack Glass Systems for Custom Commercial Fireplaces
Montigo's patented COOL-Pack and Power COOL-Pack glass technologies have been designed to significantly increase safety by maintaining glass temperatures as low as 115˚F (46˚C).
COOL-Pack technology makes it safe to touch the glass, reducing associated liability risks for the property owner.
---
Montigo + Professionals
Explore Montigo's Resource Center for Architects, Designers, and Builders
Montigo works closely with professionals to specify, engineer, and install awe-inspiring bespoke gas fireplaces for one-of-a-kind spaces. We collaborate with you to create a sense of space with our fireplaces.
Special requirements, unforeseen challenges, 24/7 commercial use – no project is too complex.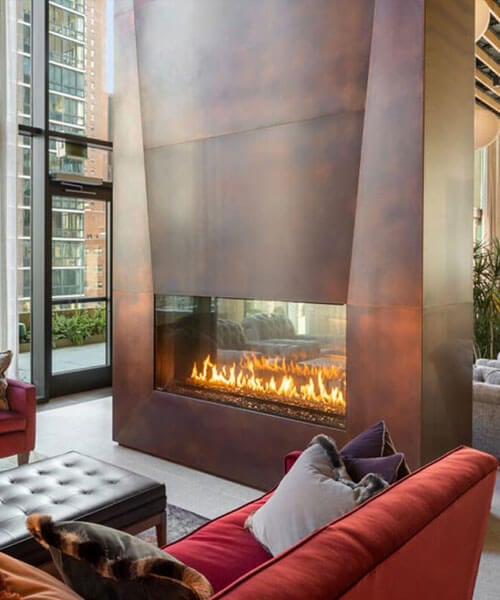 ---