Phenom
L38FSD See Through
Phenom See Through
Standard:
Contemporary burner with Ice fireglass, Comes with Proflame 2 BASIC control system, Manual Hi-Lo flame control
Options:
Glass media, Surrounds in satin black or stainless steel, Multi-function remote control, Battery backup, Remote controlled fans
Specs at-a-glance:
Max BTU (NG)

27,000
Framing Width

41"
Framing Height

40"
Framing Depth

23 3/4"
Glass Opening Width

35 1/4"
Glass Opening Height

18"
Inner Vent Size

5
Outer Vent Size

8
Commercial

No
Customizable

No
A New Dimension
The PHENOM See Through – where modern elegance meets timeless allure. Elevate your home's ambiance with this captivating centerpiece that redefines sophistication. Designed with clean lines with a see-through configuration, the PHENOM instantly adds a touch of chic minimalism to any living space.
With its mesmerizing flames visible from two sides, this fireplace creates an alluring focal point that effortlessly enhances the overall aesthetic. The PHENOM's advanced flame technology produces lively flames, capturing the essence of a traditional fireplace without the hassle. But it's not just about aesthetics; this contemporary marvel is also a reliable heating source. With manual heat adjustments and an optional fan system, the PHENOM ensures a cozy and comfortable environment during colder days. Installation is a breeze, and safety features, including a micro mesh screen, provide peace of mind. Embrace the allure of the PHENOM See Through fireplace and transform your home into a haven of modern luxury and warmth.
---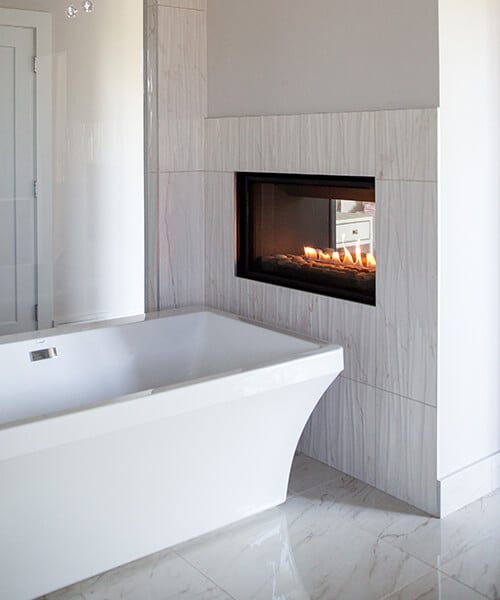 Trend Watch: Bathroom Fireplaces
While one might dismiss the idea of installing a fireplace in a room that people generally spend the least amount of time in, a see through fireplace can double the usage by making the fireplace viewable from a bedroom or common room.
---
Fireplace Design Inspiration
Hottest Trends in Fireplace Design
Whether you want to freshen up an existing fireplace with a change of mantel, a bit of paint, a full design overhaul, or replace the unit and create a masterpiece. There are a lot of ways to upgrade and endless materials to choose from.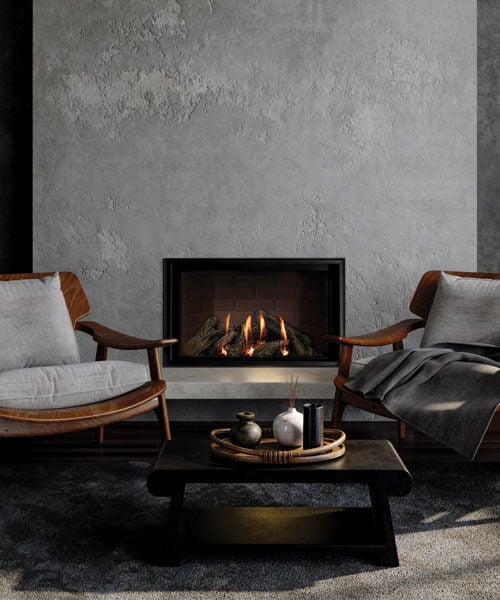 ---