Phenom
P52DF Residential Fireplace
Phenom Full Load
Standard:
Concealed burner with Quartz firebeads, Multi-function remote control, Remote controlled fans, Black porcelain liner, Halogen uplighting, Remote Hi-Lo flame control, Battery backup
Options:
Surrounds in satin black or stainless steel, Speckled stones, driftwood, glass media
Specs at-a-glance:
Max BTU (NG)

40,000
Framing Width

52"
Framing Height

37 1/2"
Framing Depth

24 1/2"
Glass Opening Width

47"
Glass Opening Height

21 3/4"
Inner Vent Size

5
Outer Vent Size

10
Commercial

No
Customizable

No
It Starts with a Spark
Introducing the PHENOM, the epitome of sophistication and convenience in the realm of fireplaces. This fully loaded marvel combines state-of-the-art technology, sleek aesthetics, and unmatched practicality to revolutionize the fireplace experience. Adorned with halogen lighting, the PHENOM illuminates the room with a captivating glow, perfectly simulating the flickering flames of a traditional fire. With the convenience of a remote control, users can effortlessly adjust the light intensity, fans, and heat output, creating an idyllic atmosphere without leaving the comfort of their seat.
The innovation doesn't stop there. Incorporated with high quality fans, this fireplace ensures an even distribution of warmth throughout the space, eliminating cold spots and providing a cozy environment during chilly evenings. Whether it's a grand living room or a cozy den, the advanced heating system effortlessly regulates the room's temperature, making it a focal point of comfort and style. With its fusion of cutting-edge features and opulent design, the PHENOM stands as a testament to the future of fireplace technology, setting a new benchmark for luxury, convenience, and unparalleled elegance in home heating solutions.
---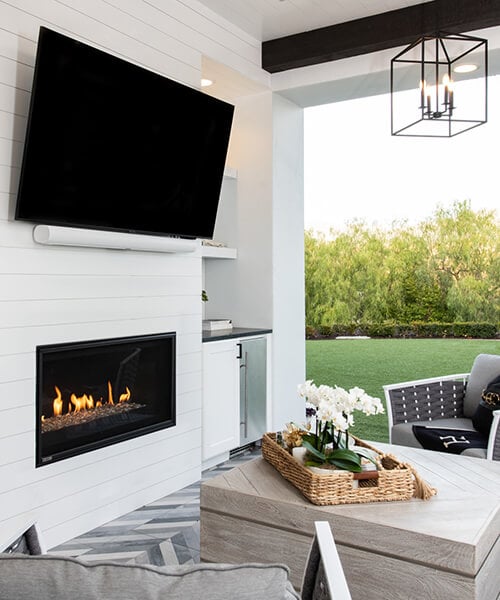 A Direct Vent Gas Fireplace Classic
Great design is timeless. The PHENOM Series single sided direct vent gas fireplace is the true definition of this phrase as we are still seeing fresh examples of interior designers using the the Phenom fireplace in multiple projects.
---
Fireplace Design Inspiration
Hottest Trends in Fireplace Design
Whether you want to freshen up an existing fireplace with a change of mantel, a bit of paint, a full design overhaul, or replace the unit and create a masterpiece. There are a lot of ways to upgrade and endless materials to choose from.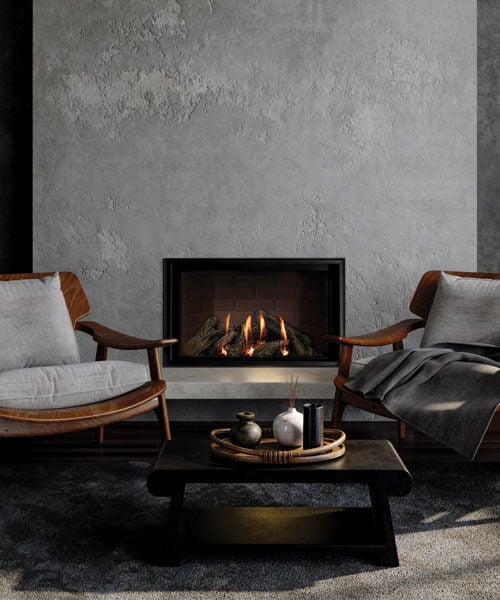 ---