Montigo offers something for every mood…
Firestones
Fireglass
Firebeads
Speckled Stone
Driftwood Logset
Traditional Logset
No matter your taste, you will find something to suit your own personal style.
Please refer to specific residential fireplace models for media compatibility. You can find this information in the product brochure or owners manual, or contact your local authorized dealer.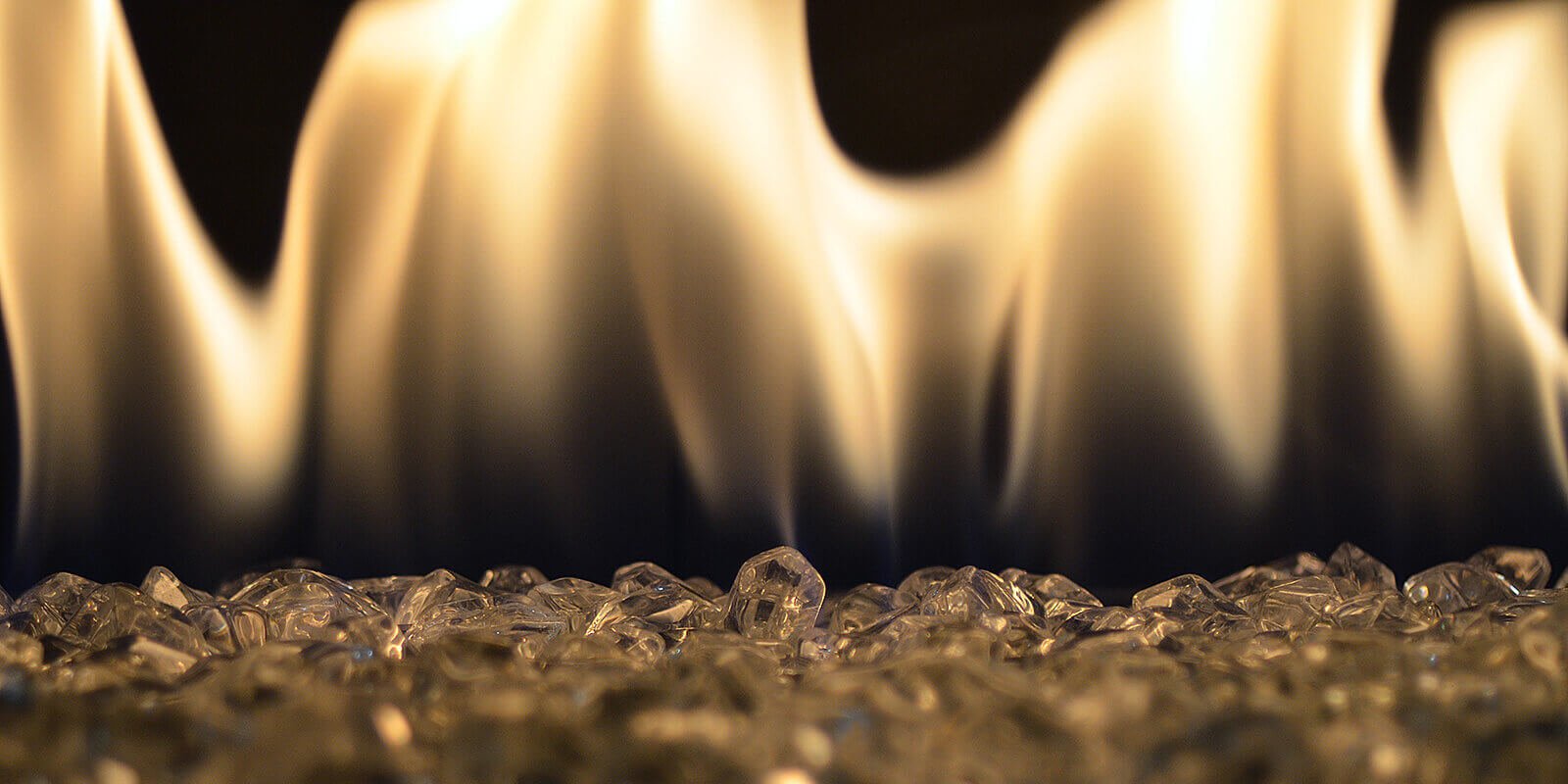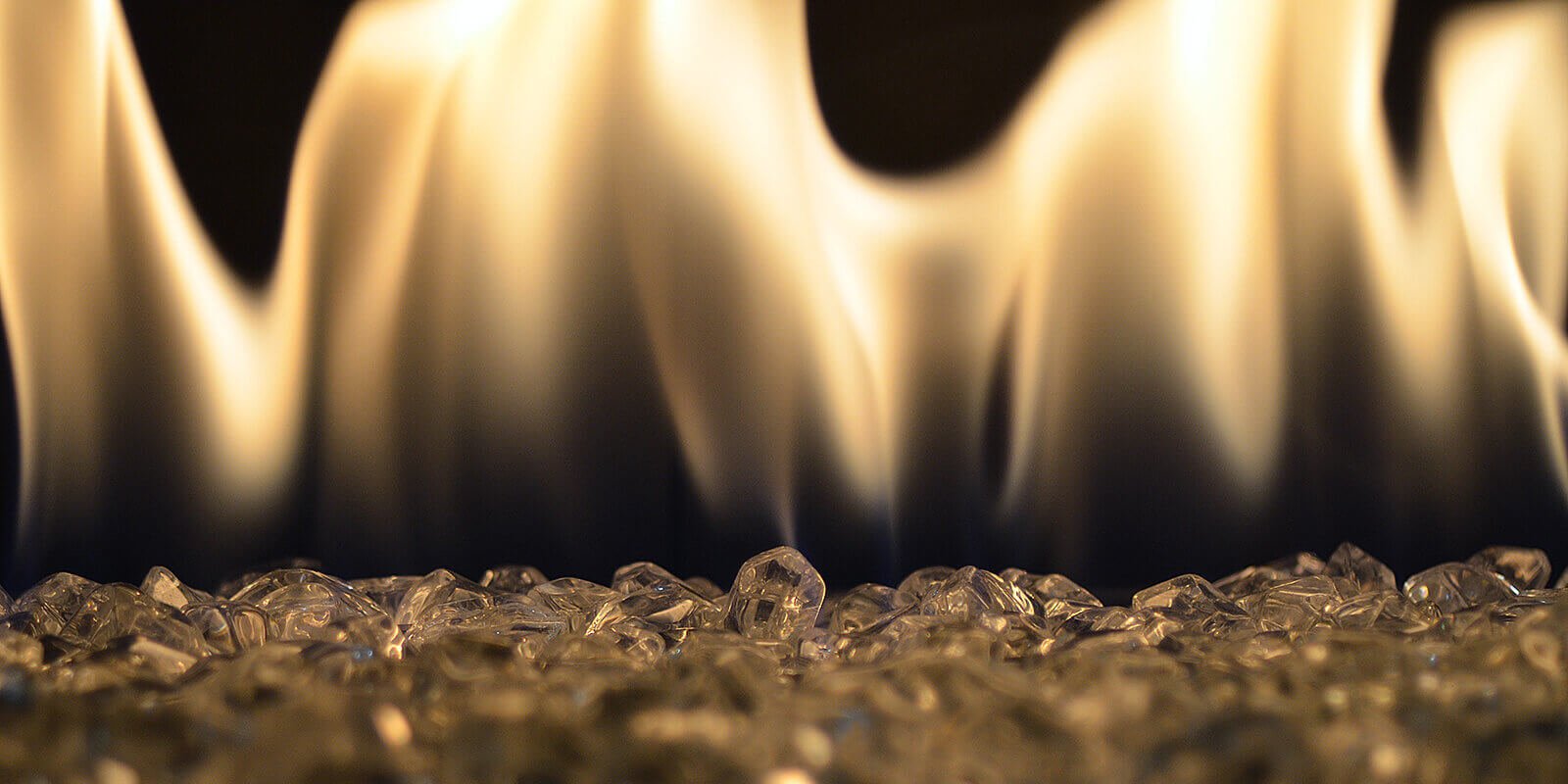 Glass Media
Firestones
Premium borosilicate firestones are a modern and multifaceted choice to better reflect light in your gas fireplace and create captivating color and sparkle.
Fireglass
Shards of standard or mirrored fireglass that is 'crushed' or broken provides a clean and modern look in your gas fireplace. Fireglass has sharp edges – protect your hands with gloves and use caution when handling it.
Firebeads
Smooth glass beads that are rounded like pebbles provide a clean and simple look in your gas fireplace. Multi-color blends are also a great way to accent an outdoor firepit.
Designed to completely cover the burner, firestones, fireglass and firebeads can be paired with uplighting or LED lighting to create different moods.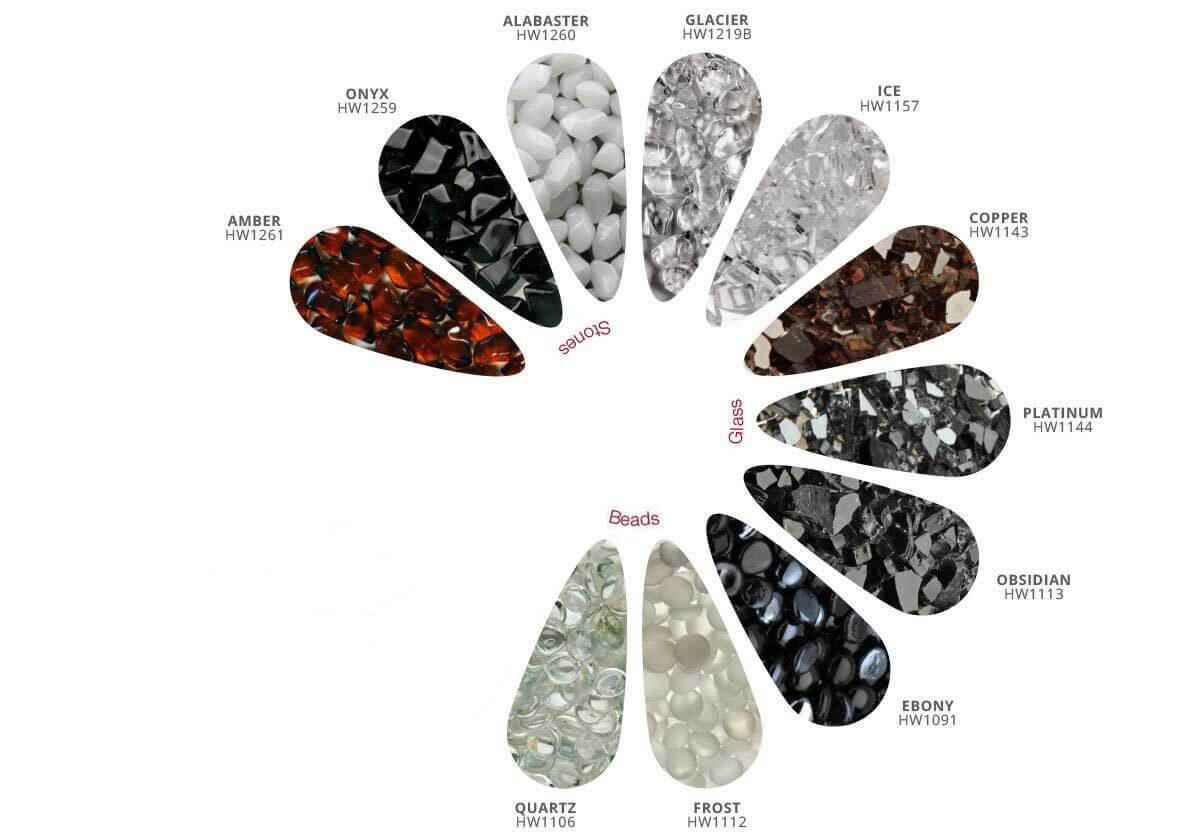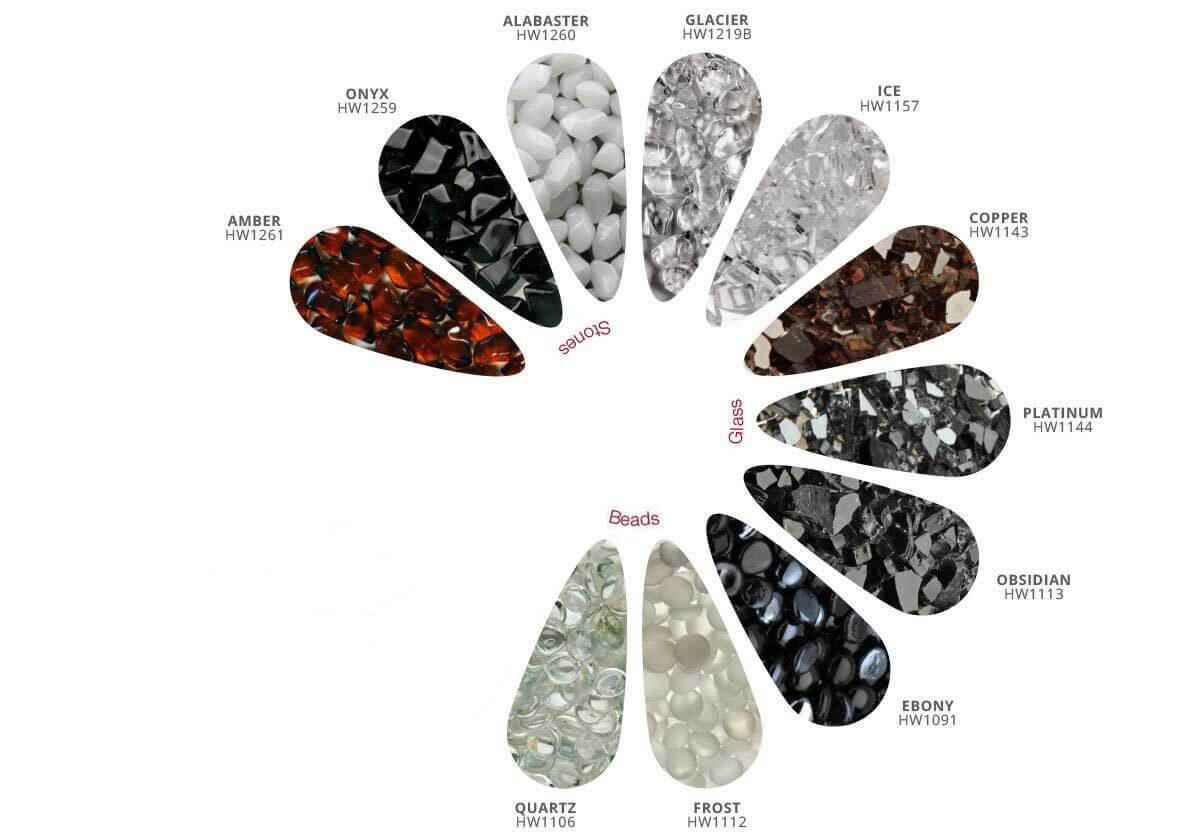 Logs & Driftwood
If you are a fan of traditional wood burning fires, but not the messy cleanup, then fiber logs or driftwood for gas burning fireplaces could be just what you're looking for.
Contemporary technology makes the most realistic looking wood logs possible, right down to the blackened char marks, splits and knots of the real thing.
Shown at left (from top):
Wildfire Logset
Traditional Logset
Driftwood & Speckled Stones *ordered separately
Speckled Stones
An elegant and earthy option, beach stone can be used in gas fireplaces to bring the outdoors in.
Manufactured with heat resistant materials, this media won't crack or chip, even when exposed to direct flame. Available in a variety of colors, speckled beach stones are a popular choice for a contemporary earthy feel.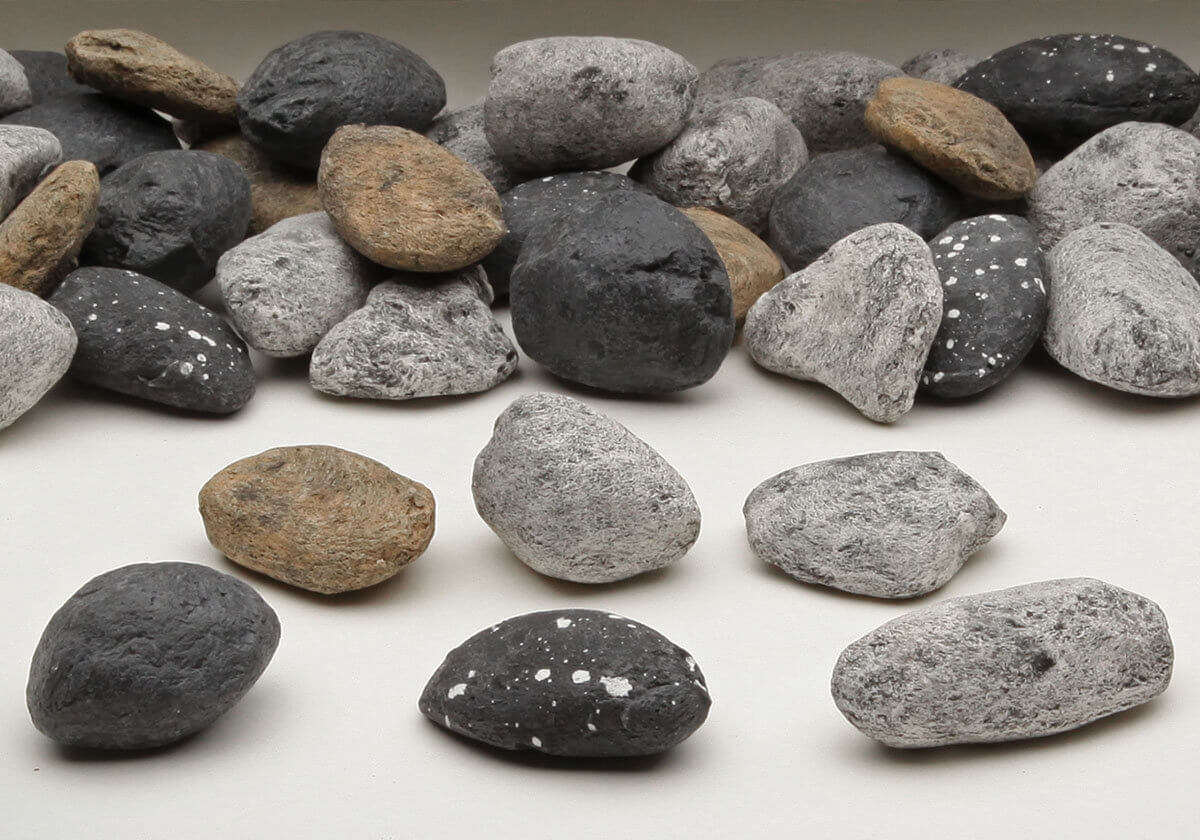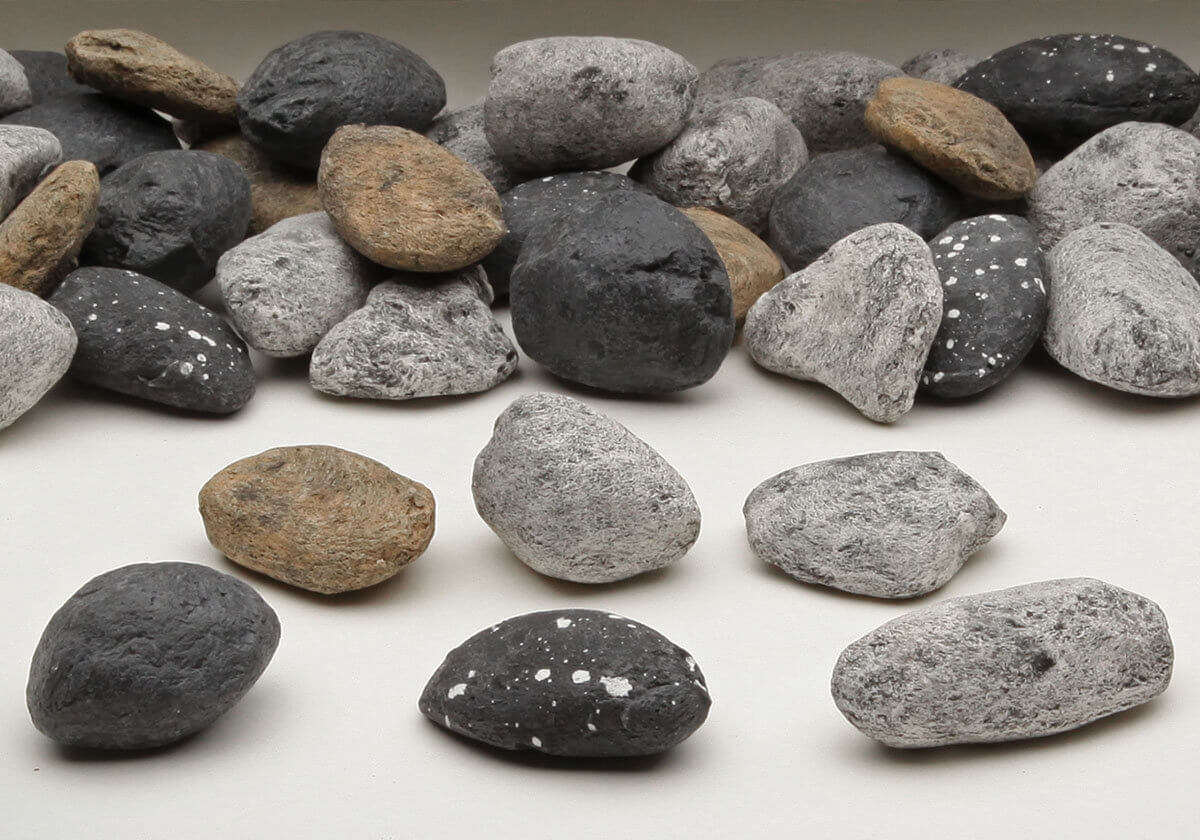 Burner Media Placement
Always refer to the manufacturer installation guide and user manual of your residential fireplace when arranging any media type on and around a gas fireplace burner, pilot cover, and air inlets. Proper placement is crucial to the safety, function, and form of your fireplace.
In general, firestones and fireglass are designed to completely fill the burner tray. Made from heat resistant material, glass media is designed to withstand the intense heat and produce a beautiful smokeless flame.
Ceramic and fiber media, like driftwood, logsets, and rocks, should never be placed directly over an open flame. The material is fire resistant, but when placed too close to the flame, it will smoke and create soot that will dirty the glass on your fireplace very quickly.
! Warning !
Never place real stone or wood in a gas fireplace. Natural stone and wood is porous and can trap moisture, even if it looks like it's completely dry. Trapped moisture will expand when heated and poses a very dangerous explosive hazard.