Divine Multi
H42FSD See Through Gas Fireplace
Divine Traditional See Through
Standard:
Traditional burner and logset, Heritage brick liner, Wrought iron grate, Manual Hi-Lo flame control
Options:
Multi-function remote control, Wall remote, Battery backup, Fans, Surrounds in satin black or stainless steel, WiFi phone app control
Specs at-a-glance:
Max BTU (NG)

37,000
Framing Width

45"
Framing Height

49 1/2"
Framing Depth

24"
Glass Opening Width

39 1/2"
Glass Opening Height

30 1/2"
Inner Vent Size

5
Outer Vent Size

8
Commercial

No
Customizable

No
The DIVINE See Through
Introducing the DIVINE See Through Fireplace, a true marvel that brings the timeless allure of a traditional hearth to both sides of your living space. With its see-through design, the fireplace creates an enchanting visual connection, adding a touch of elegance and warmth to multiple rooms at once. The meticulously crafted traditional logset infuses your home with the rustic charm of a wood-burning fireplace, while the heritage brick liner exudes a sense of classic sophistication, making it a cherished centerpiece that resonates with warmth and nostalgia.
Bask in the cozy ambiance and watch the flames dance on both sides, creating a harmonious and captivating atmosphere that will undoubtedly become the heart of your home. The DIVINE See Through Fireplace is not just a source of heat; it's an embodiment of beauty and craftsmanship that enriches your living space with the charm of a traditional hearth, bringing joy and cherished moments to your family and guests alike.
---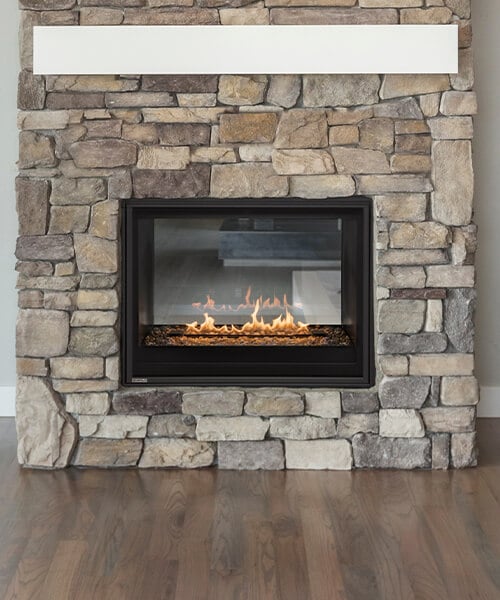 Worship Beauty from Every Angle
Montigo's DIVINE see-through fireplaces redefine the concept of luxury and ambiance. Designed with a clear view from both sides, these fireplaces create a stunning visual connection between adjacent spaces, elevating the atmosphere of any room. With advanced engineering and state-of-the-art features, Montigo's see-through DIVINE fireplaces offer not only exceptional aesthetics but also unparalleled performance and efficiency, making them the epitome of sophistication and functionality.
---
Fireplace Design Inspiration
Hottest Trends in Fireplace Design
Whether you want to freshen up an existing fireplace with a change of mantel, a bit of paint, a full design overhaul, or replace the unit and create a masterpiece. There are a lot of ways to upgrade and endless materials to choose from.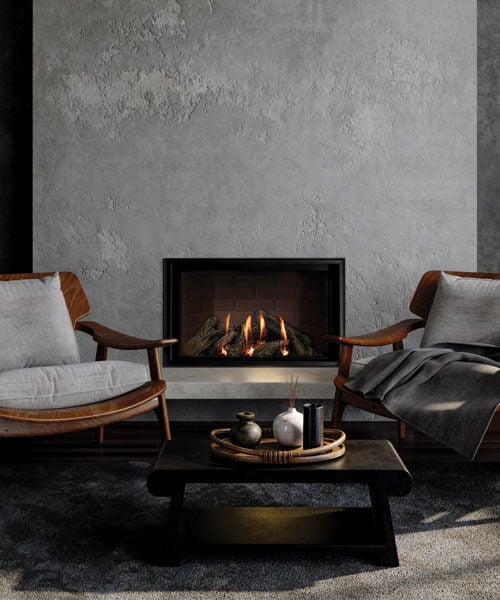 ---