Illume Inserts
34FID Traditional Gas Fireplace Insert
Illume Gas Fireplace Insert Features
Standard:
Ceramic burner and logset, multi-function remote control, halogen downlighting, remote Hi-Lo flame control, battery backup, micro mesh screen
Options:
Propane conversion kit, remote controlled fans, black porcelain liner, various traditional liners, square, oversized or 4-sided surround, WiFi phone app control
Specs at-a-glance:
Max BTU (NG)

31,000
Glass Opening Width

28 3/8"
Glass Opening Height

18 1/8"
Commercial

No
Customizable

No
Min. Masonry Cavity Width

34"
Min. Masonry Cavity Height

24"
Min. Masonry Cavity Depth

15"
P.4. 1-15 Efficiency NG

81.1%
P.4. 1-15 Efficiency LP

82.0%
The Ultimate in Sensible Luxury
Your pathway to revitalizing old wood-burning fireplaces with modern convenience and efficiency. The ILLUME gas fireplace insert is a revolutionary solution designed to transform your old and inefficient wood-burning fireplace into a contemporary and environmentally friendly heating source. With its cutting-edge technology and sleek design, ILLUME gas inserts redefine your fireplace experience, providing a clean, hassle-free, and energy-efficient alternative. Traditional or contemporary, the ILLUME adds style to an old masonry fireplace.
The ILLUME insert utilizes natural gas or propane as its fuel source, delivering efficient and consistent heat output without the drawbacks of wood-burning, such as smoke, ash, and sparks. Enjoy efficiency ratings so good that fans are optional! Designed for easy installation, ILLUME inserts are crafted to fit perfectly into most standard-sized wood-burning fireplaces and uses co-linear venting with flexible chimney liners.
Rediscover the joy of your fireplace with an ILLUME gas fireplace insert. With its contemporary design, efficiency, and convenience, it breathes new life into your old wood-burning fireplace, elevating your home's comfort and style. Embrace the future of fireplace technology and create cherished memories with your loved ones around the mesmerizing flames of an ILLUME gas insert.
---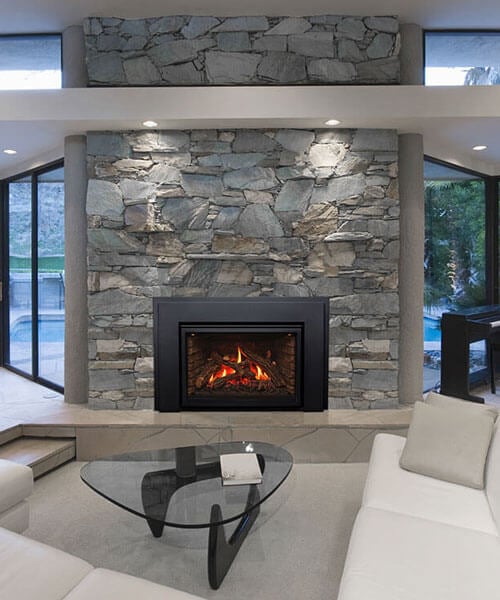 Discover Your Fireplace Insert Style
Montigo's gas fireplace inserts are versatile enough to work in any room. Slick and modern, classic and cozy, or a mixture of the two for a transitional look. Overall, the ILLUME is at home in any environment. Take a look at all the features and options available for the ILLUME gas fireplace insert series and create your own personal style.
---
Fireplace Design Inspiration
Hottest Trends in Fireplace Design
Whether you want to freshen up an existing fireplace with a change of mantel, a bit of paint, a full design overhaul, or replace the unit and create a masterpiece. There are a lot of ways to upgrade and endless materials to choose from.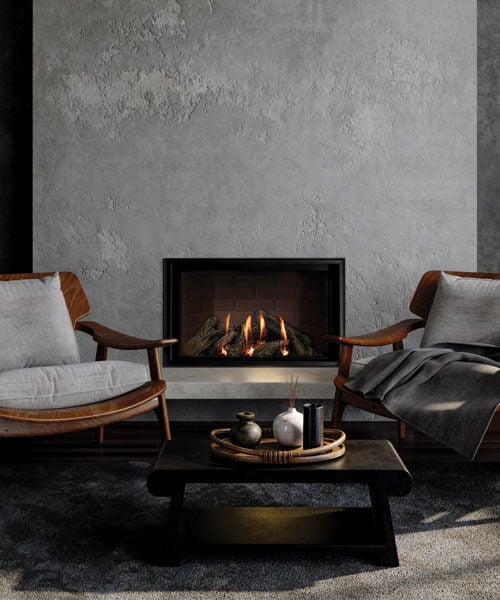 ---