Eeny, meeny, miny, moe…
We can all agree that nothing beats the cozy and comforting ambiance of a fireplace, no matter what type you have in your home. 
It used to be that if you didn't already have a chimney and firebox in your home you were out of luck. Then along came the propane and natural gas fireplace, giving homeowners the option of a clean burning fireplace with a relatively small renovation investment.
A few decades on and we now have a seemingly endless variety of configurations and styles that run on the power source of our preference. Unfortunately, with choice comes confusion, and many homeowners ask "What type of fireplace is best for my home?".
There are a lot of things to consider when choosing a fireplace. The good news is that it's pretty easy to narrow down your options.
Gas vs. Electric
Chances are, you will be deciding between gas and electric as a power source. These two fireplace types have pulled away from the pack as the two most popular options in residential and commercial settings. While no one is going to mistake either option for a wood burning fireplace, gas and electric have several pros and cons to consider.
This leaves consumers with questions on why gas and electric are the de-facto #1 and #2 buying choice. What are the main differences between the two options?
Visual Appearance
Realistic Flames
While electric fireplaces have made huge advancements in visuals over the past few years, we have yet to see a truly convincing replica of a traditional fire.
With more realistic, modern burner media, you can create a compelling log fireplace. Or strip it back with a sleek bed of glass – all with the benefit of a real flame.
Even better, with our new Universal Burner featured in the DelRay Square, you can switch up the media without replacing the burner.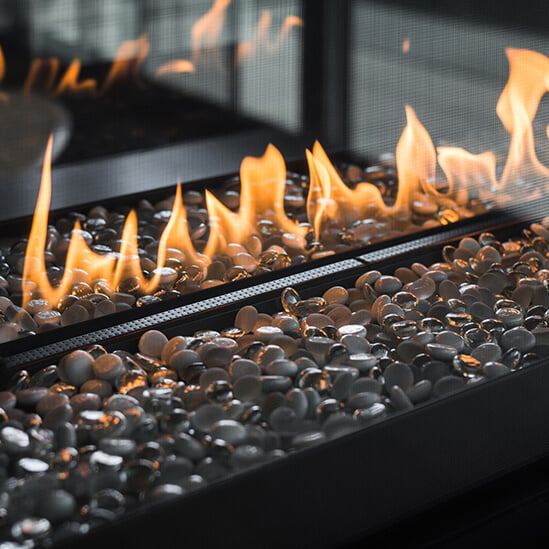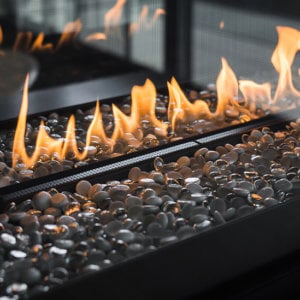 Modern electric units have a variety of media scenes as well, though they are a much less faithful imitation. Electric fireplaces also have the added benefit of changing the flame color with LED lighting. Some units have different media scenes that you switch between at the click of a button.
If realism is what you desire, a gas fireplace is still the far better choice.
Energy Efficiency
Area Heating
Natural gas is still generally the lowest cost option for heating homes. Efficiency extends even more when you factor in zone heating and the introduction of heat management kits that can direct the heat where you want it.
The vast majority of time is spent in only a few select rooms of a home. If these high traffic areas are fitted with a fireplace, then the furnace can comfortably be turned down significantly for the rest of the home.
Radiant & Convection Heat
In terms of heating a space quickly and efficiently, a gas fireplace is the better option over electric.
Both options produce heat immediately, but a gas fire can reach peak heat levels within a few minutes of operation. Which is exactly what you would need arriving home on a cold winters night.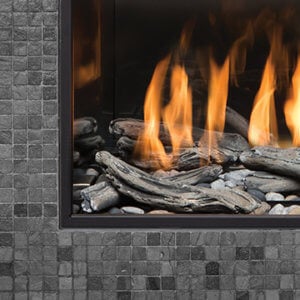 Natural gas and propane fireplaces use full sized blowers which are used to push convection heat from the firebox throughout the room. In contrast, most electric units have to sacrifice blower size due to the shallow nature of the unit.
Gas fireplaces also have the benefit of providing radiant heat through the heated front glass of the unit, which warms the room evenly and efficiently.
Electric fireplaces may seem more efficient on the surface but they will never heat a room as well as gas. You can often turn down the thermostat in a home with a gas fireplace. With an electric fireplace, you will need a secondary heat source to be comfortable. This would quickly negate any perceived savings.
Installation
Local Codes
Recently, some jurisdictions have decided to restrict or full out ban the usage of natural gas in new construction. This makes electric the only option for a fireplace in these locations.
However, in most of these jurisdictions, a gas fireplace can still be installed if gas is available in a building built prior to the change of legislation.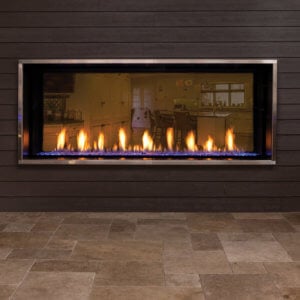 Ease of Installation
Both gas and electric are significantly easier to install than a wood burning fireplace. There are considerations for each option.
Gas fireplaces require an accessible gas line and gasfitter to hookup, a small vent run. Installation parameters can be less forgiving than their electric counterparts and will require professional assistance every time. Many gas fireplaces will also need to be built-in, which can add to the budget and scope of the project.
Many electric fireplaces have the benefit of being "plug & play" and require the bare minimum of effort unless you choose built-in for aesthetic reasons. With the addition of 3-prong plugs and zero clearance boxes, the average homeowner can install one without much trouble.
Modern electric units also allow renters to get in on the fun! The new slim profile models simply hang directly on the wall. They look great as-is, and can easily be moved from room to room, or rental to rental.
The Bottom Line
Both options have their benefits based on your priorities. Consideration should also be given to factors such as budget, service and maintenance, and the restrictions on the building and the jurisdiction it resides in.