Switch It Up!
Millivolt wall switches were the go-to in the early days of gas fireplaces. Today, most high-end modern fireplaces come standard with a remote control. Middle ground for these two options is the usage of a wall switch with a modern Proflame 2 equipped fireplace.
We often get questions about installing a WiFi or timer capable wall switch, or simply how to install a wall switch in a fireplace that came standard with a remote control.
Here are a few frequently asked questions regarding the installation and maintenance of a wall switch connected to a Proflame 2 equipped fireplace.
Can I lengthen the wall switch wire that came with my fireplace?
Yes you can. The supplied 18/2 wire will work up to 25-ft in length. For longer lengths, an increase in wire gauge is necessary to overcome the voltage drop.
Which wall switches are compatible with my fireplace?
For Proflame 2 models, a regular SPST wall switch will work. Therefore, you should ensure no power is being applied to the switch contact.
I bought a WiFi enabled wall switch, will this work with my fireplace? How about the scheduling and timer?
This should work as long as the switch is a dry contact type, i.e. there is no power applied to the contact of the WiFi switch.
WiFi switch systems require power and are designed to replace a light switch which has neutral wires stored in the junction box. For WiFi functionality, it is best to use a WiFi dongle connected directly to the control board. Here we show a timer that requires 120v power connected to the fireplace through the X4 connection on the control board. No power is being supplied to the wall switch wire.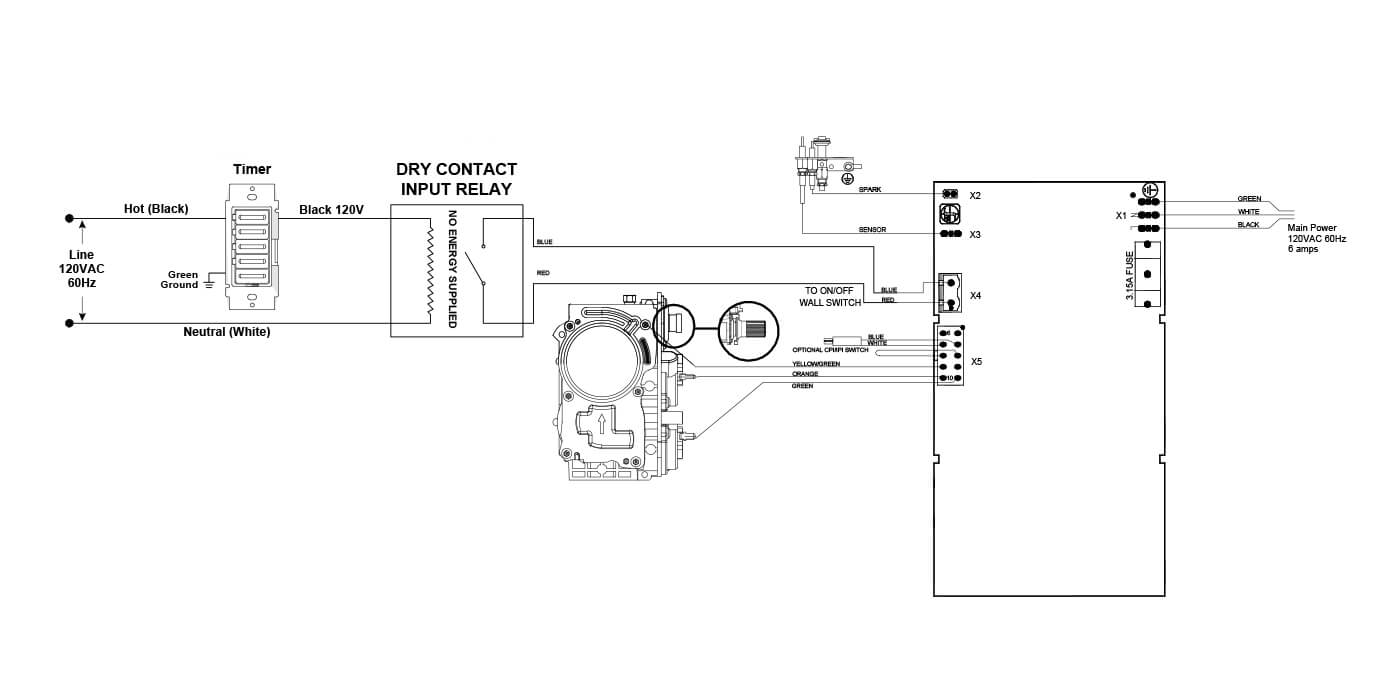 My fireplace came with a remote, can I hook up a wall switch as well?
Most battery operated remote receivers can be installed in a single gang switch box, replacing the wall switch. These receivers have a manual override switch and a remote position. With models that have full function remotes, set the receiver or control module to manual mode so a wall switch can be used.
It is not advisable to have remotes and wall switches wired in parallel where both switch control a single fireplace, this can be confusing when the wall switch is in the ON position and another user is trying to turn the unit OFF with a remote.
My wall switch isn't working. What's wrong?
It is likely that the switch or connection has failed. Alternately, the wires could be corroded, broken, or oxidized, causing a poor connection.
Wall Switch Installation
Fireplaces with basic Proflame 2 come specifically with a length of LVT wire connected to the X4 connector.
When converting a fireplace with an on/off toggle to use a wall switch, disconnect the on/off toggle and attach a length of LVT wire. The green connector on the end of the on/off toggle can also be removed and attached to the LVT wire.
While conforming to local electrical codes, run the wire through the wall to the desired location. For a longer run than the included wire allows, increase the wire gauge to compensate for the voltage drop.
Wrap the LVT wires to the brass screws. Wrap the wire clockwise to ensure the wire's connection will tighten as the screw tightens. Cover your switch and wires with the switch plate.
Compatible Montigo Fireplaces
Montigo Fireplaces pre-wired for a wall switch:
DRL3613NI;
DRL4813NI;
DRL4813NI;
DRSQ34NI;
DRSQ38NI;
DRSQ42NI;
DRSQ46NI;
H38FSDN;
H38FSDL;
H38FSDNI;
H38FSDLI;
H42FSDN;
H42FSDL;
H42FSDNI;
H42FSDLI;
P38DFLI;
P38DFNI;
P42DFLI;
P42DFNI;
P52DFLI;
P52DFNI;
L38FSDN;
L38FSDL;
L38FSDNI;
L38FSDLI;
L42FSDN;
L42FSDL;
L42FSDNI;
L42FSDLI;
L52FSDN;
L52FSDL;
L52FSDNI;
L52FSDLI;
Montigo Fireplaces with standard remote control:
30FIDNIL-01;
30FIDNIS-01;
34FIDNIL-01;
34FIDNIS-01;
D3615NI-2;
D3615STNI-2;
D4815NI-2;
D4815STNI-2;
D6315NI-2;
D6315STNI-2;
D7215NI-2;
D7215STNI-2;
DRL3613NI-2;
DRL4813NI-2;
DRL4813NI-2;
DRSQ34NI-2;
DRSQ38NI-2;
DRSQ42NI-2;
DRSQ46NI-2;
H38CLLI-2;
H38CLNI-2;
H38CRLI-2;
H38CRNI-2;
H38PFLI-2;
H38PFNI-2;
H38PRLI-2;
H38PRNI-2;
HL38CLLI-2;
HL38CLNI-2;
HL38CRLI-2;
HL38CRNI-2;
P38DFLI-2;
P38DFNI-2;
P42DFLI-2;
P42DFNI-2;
P52DFLI-2;
P52DFNI-2;
Ready to switch it up? Find an authorized Montigo dealer near you to assist with your wall switch installation.