Striking the Right Note on Fireplace Finishing
All eyes are on the fireplace as the main feature appliance in a living space. The finishing space around the fireplace is just as important as the fireplace itself. Impactful finishing can help create a visual spectacle that brings the whole room together.
As a homeowner, you may need assistance selecting the right fireplace but you probably have a solid vision of how you want the feature wall and surround to look. To hit the right note, you need to start where you want to finish.
Working backwards from the final design makes sense because dreams of design perfection pose a challenge in fireplace finishing. Not all wall features and finishes are compatible with all fireplaces.
Fireplace construction, heat output, size, and venting can all create tricky situations where the fireplace you chose will inhibit the overall vision. Therefore, best practice is to understand the entire design before selecting a fireplace.
Let's take a look at some pitfalls and recommendations for the most common wall and surround trends.
Fireplace Finish: Wood & Shiplap
Most standard residential units have a clearance requirement when it comes to combustible materials. A low heat producer is essential to keep surface temperatures in a safe range to allow for shiplap and other combustible facing materials.
Note: Horizontally installed shiplap is easier to install than vertical, as the shiplap can be fixed to the existing fireplace framing without adding additional studs.
Recommendation: Any model from the DelRay series is a solid choice. Both the linear and square units can be finished with combustible materials when the chase is vented.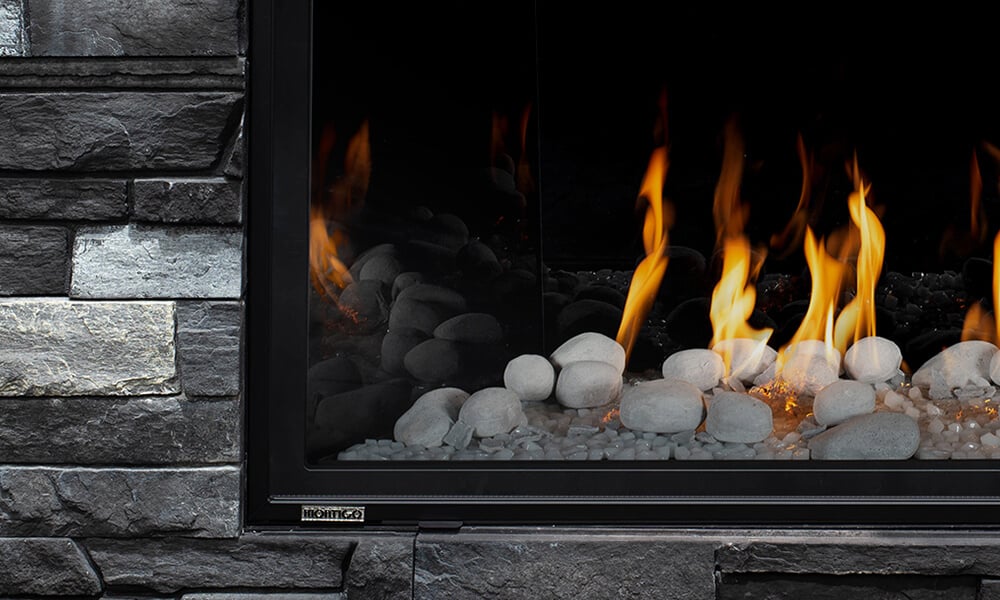 Fireplace Finish: Ledgestone Tile
The most realistic looking ledgestone finishes will be quite thick and visible edges will be unsightly. To remedy this, you have to consider the raw edge that butts up against the fireplace opening.
While an unsightly edge can be cleaned up with paint and specialized edge pieces, it's easier if you choose a fireplace that has a trim kit designed for a thick finishing.
Recommendation: The Distinction and DelRay series both have trim kits that can provide a clean finish for materials up to 2″ deep.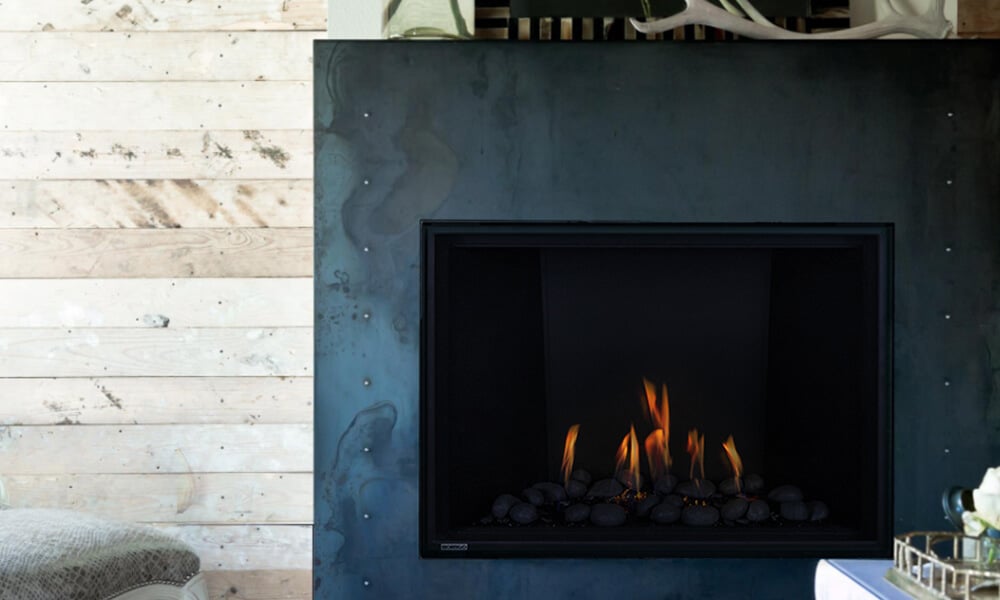 Fireplace Finish: Specialty Metal Facings
A specialty non-combustible facing may seem on the surface as less of a headache than a combustible facing, but a few factors may affect the finished product.
A metal facing or surround will get significantly hot and could pose a danger to children or the elderly. Additionally, the material has a tendency to "oil can" warp and bang while warming up and cooling down.
The color and finish of the metal material will also change over time. Though many designers see this as a quirky feature rather than a bug.
Recommendation: If you are looking for a fireplace to pair with a metal finish, the Prodigy would not have any of the issues described above, as it is a cool-body unit. Standard residential units would have better results by adding an air gap or a hardy board backer between the unit and the metal facing.
Flush Hearth
A flush hearth is another instance where a heater rated unit may hinder the installation. Even when the fireplace is constructed with a noncombustible finish it can overheat and crack, or just impede removal of the glass door.
While ventilating the chase may help reduce temperatures, radiant heat from the fireplace still may effect a hearth close to the opening.
Recommendation: The Prodigy's clean face and cool-body creates a simple installation for a flush hearth. Refer to the manual for specific dimensions.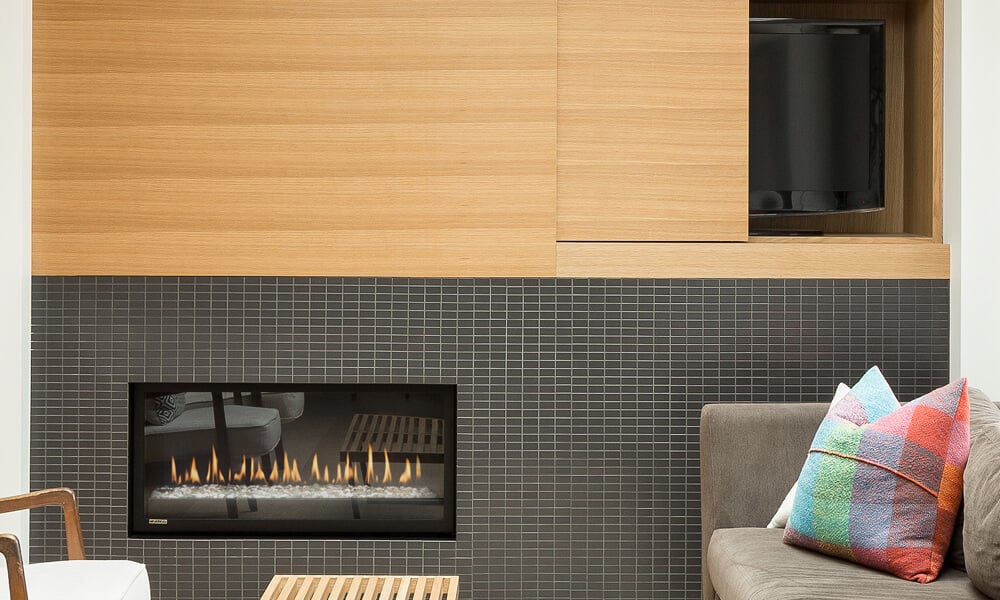 TVs & Fireplaces
Best practice still recommends keeping any sensitive electronics far away from heat generating fireplaces. Install them in an enclosed area to the side of the unit if possible. With continually shrinking average condo square footage, we understand that this issue is getting more and more difficult for architects and homeowners to contend with.
Acting as a "shield", a simple mantel can divert the bulk of the heat away from electronics mounted above the unit. Keep in mind that heat may still wrap around the top of the mantel, so the TV should be at most mounted only 3″ above the mantel.
Recommendation: The Distinction and DelRay series are both compatible with heat diverting TV kits that create the most efficient diversion of hot air from any combustible or sensitive materials above the unit.