Using the 5 Elements of Feng Shui to Create Outdoor Harmony
The philosophy of feng shui isn't just for indoors. By definition, feng shui is a practice of creating balance with the natural world, so your outdoor space is the perfect place to put it into practice.
Your outdoor living room, patio, or even your entire garden, can become a peaceful Japanese inspired haven. No matter the size of your outdoor space, there are many ways to include the 5 elements of feng shui – water, earth, metal, wood, and fire.
The best Japanese gardens are soothing and meandering, with surprises around each bend. Avoid straight lines and try to create a feeling of harmony and wellbeing. Also, try not to use faux plants or turf, as they do not bring the same kind of relaxing vibe as the real thing.
Here are a few tips on how to bring each of the 5 elements of feng shui into your outdoor space.
Water Element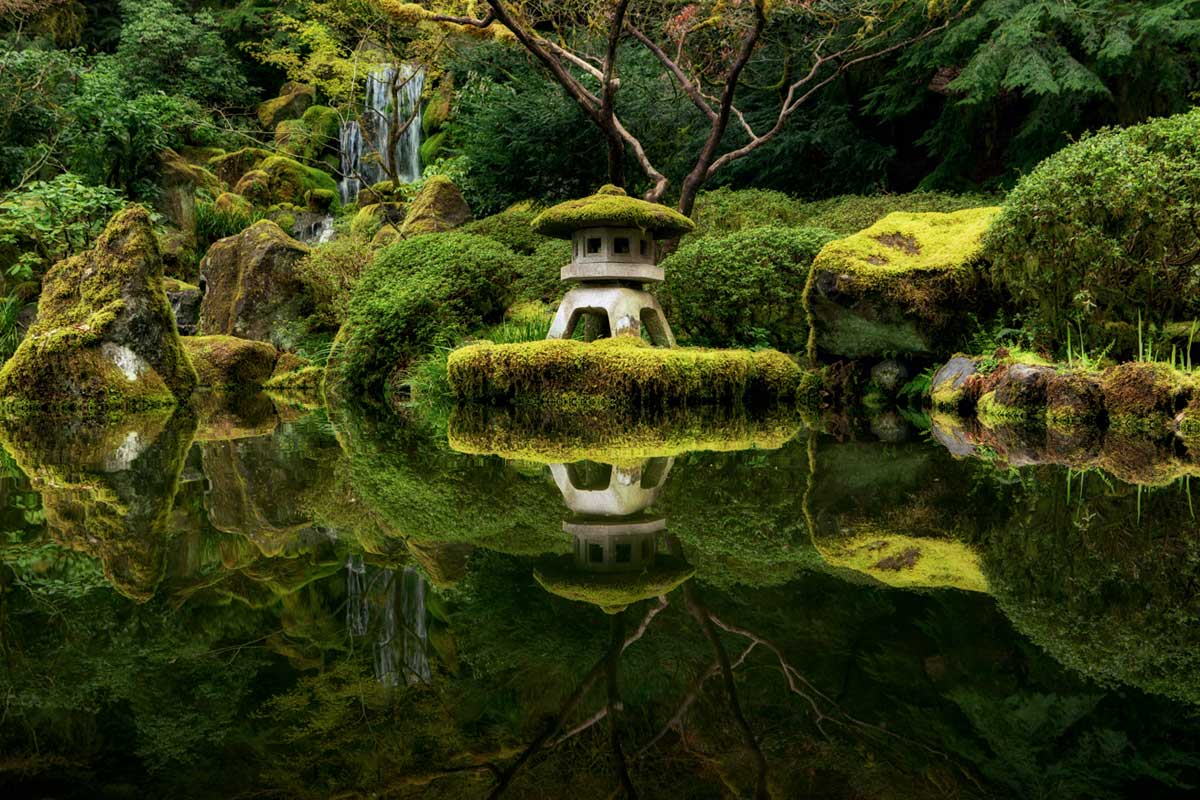 For many, the sound of moving water is one of the most relaxing things you can add to a space. Water is also symbolic of career and drawing in wealth. Add a water feature to the North quadrant on your space.
Depending on the size of your yard, a swimming pool, fishpond, or even a birdbath are ideal ways to include the element of water.
Unless you have a very large yard, a full-scale landscaped waterfall is probably out of scale or budget. For the size limited or frugal, fountains come in many shapes and sizes. So even the tiniest city balcony can enjoy a water feature.
Earth Element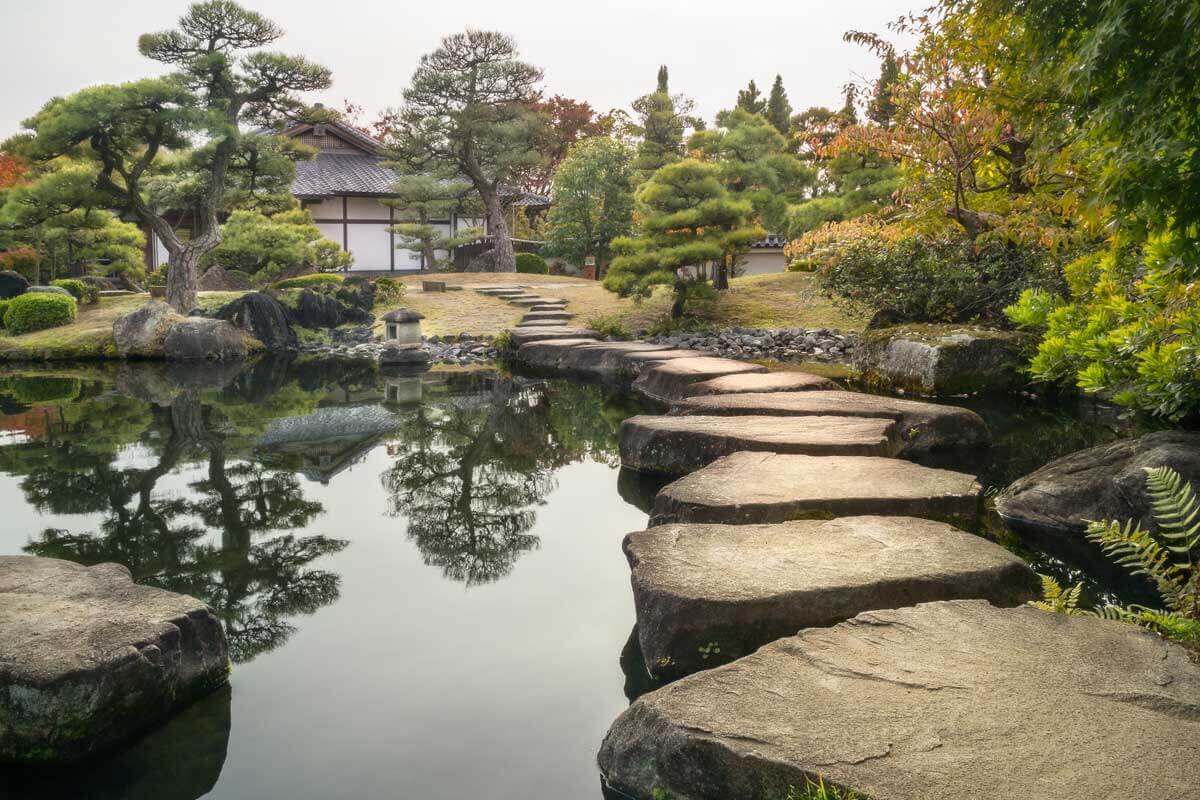 Earth relates to relationships and knowledge. Added to the Southwest and Northeast quadrants, earth can introduce a grounding effect to your space.
Large boulders and stone pathways can bring a feeling of security and stability to a home. Stone statues come in a variety of sizes and can really add character to your garden.
For smaller spaces, try your hand at stacking stones into beautiful custom sculptures. Rock stacking has carried spiritual meaning across cultures for centuries. A Cairn is traditionally used as a monument, memorial, or marker, and literally translates to "Heap of Stones". In Northern Canada, Greenland and Alaska, an Inuksuk is built in a form that resembles a human and signifies safety, hope and friendship. It is said that the Buddhist practice of stacking is a form of worship, with each stone representing a wish or family member.
Metal Element
Symbolic of mentors, descendants, heaven and luck, metal brings a calming energy to a garden. Metal elements can be sleek and modern, or weathered and rustic. Add metal features to the West and Northwest quadrants.
When combined with other natural materials, metal is a highly versatile material. Sculptures, metal framed chairs, windchimes, and lanterns, the possibilities are endless. If you want to attract more wildlife to your yard, adding birdhouses and feeders can accomplish that goal.
Wood Element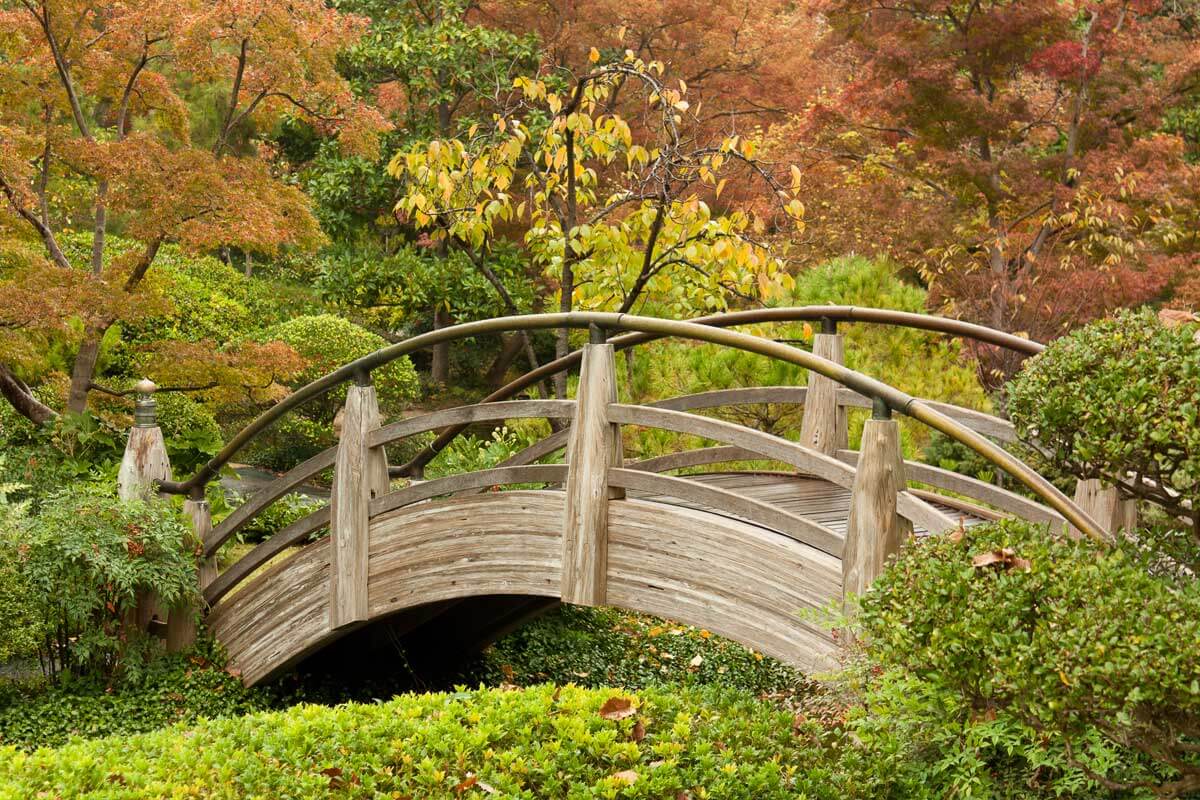 To attract health and wealth, use wood in the East and Southeast quadrants. Easily the most soothing element, all the best Japanese gardens feature an abundance of wood.
A gently wandering plank path, an arching bridge, or an elegantly simple tea house structure can introduce more charm into your garden. Pergolas and benches offer shelter and seating, trellises and greenhouses satisfy a green thumb. For smaller spaces, use wooden sculptures, shelves, or planters as an easy way to include this natural element.
Fire Element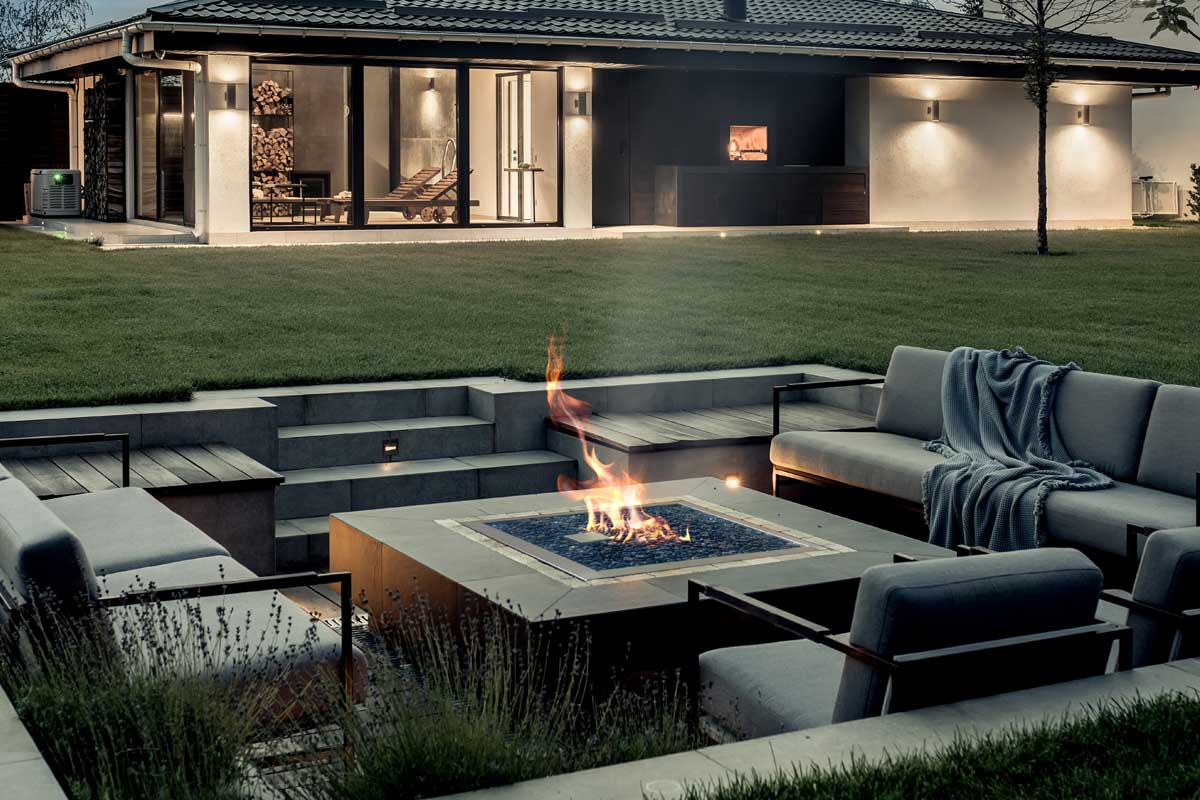 We're not ashamed to admit that fire is our favorite natural element! People have been drawn to fire as the center of the home for as long as people have been around. Adding fire to the South quadrant of your space attracts passion and fame.
Fireplaces and firepits are the obvious choice to bring maximum feng shui.
The Mahana ventless outdoor fireplace provides a modern and clean aesthetic, while a custom Montigo firepit can add an open fire without the smoke and mess. The Divine ventless see through outdoor fireplace adds a touch of the traditional with a lifelike wood burner. All options also include the element of metal and can be finished with wood for a 3-in-1 elemental hit.
Restricted from using gas or actual fire in your space? Mimic fire with non-burning light sources. String lights, electric lanterns, or even the color red are a suitable substitute for an open flame.
Balancing the 5 Elements of Feng Shui
There is no formula to balance the 5 elements of feng shui. The practice is an art of the senses, and you will know when the balance feels right for your own personal outdoor space.
Hopefully, the introduction of the 5 elements in your outdoor space brings positivity, peace, warmth, and harmony into your garden or balcony and beyond.