A hotel with a rustic, alpine charm featuring 4 Montigo custom fireplaces
At the heart of the spectacular new Gaylord Rockies Resort sits a massive 13 foot wide traditional style gas fireplace. Located in Aurora, Colorado, this world class resort and convention center encompasses 1,501 guest rooms, 8 restaurants and half a million square feet.
Montigo worked with Colorado Comfort Products to design four custom fireplaces to expand upon the grandeur of the space. The BF156 sits in the great room next to the indoor river. In order to provide a seamless look with the surroundings, Montigo supplied a masonry mesh to ease installation of the brick liner. The brick was installed to match the surrounding stone.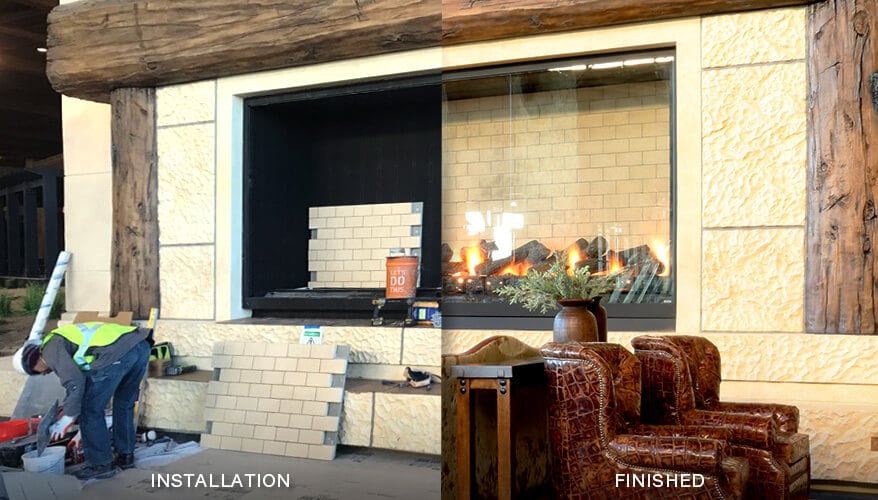 Configuration: Custom BF156 –  Traditional Single Sided
Gas Type: Natural Gas
BTU: 385,000
Vent Type: 16″ B Vent
Power Vent: 1.5 HP Roof Mounted
Special Features: Powered COOL-Pack glass, Expanded Masonry Mesh Liner
Montigo also supplied a 4-sided postless fireplace with a traditional logset in the hotel lobby. This provides the space with tremendous warmth without feeling cramped.
Configuration: Custom C4W10 – Postless 4 Sided
Gas Type: Natural Gas
BTU: 270,000
Vent Type: 14″ B Vent
Power Vent: 1 HP Flush-Mounted Wall Power Vent
Special Features: Powered COOL-Pack glass, Traditional Log Burner