Resort Style Student Housing Community at Vantage, Temple University's Newest Addition
In a new building next to Temple University's campus in North Philadelphia, the line separating the dormitory from the luxury apartment building is blurred, if not erased completely. Welcome to View II, also known as Vantage.
Designed by Atlanta firm Niles Bolton Associates, Vantage greets residents and visitors with a two-story-high lobby outfitted with several large and small spaces for socializing, working, and study. First-class amenities include an expansive study lounge, fine arts room, recording studio, technology hub, 12,622 square-foot fitness center, golf simulator, and sky deck.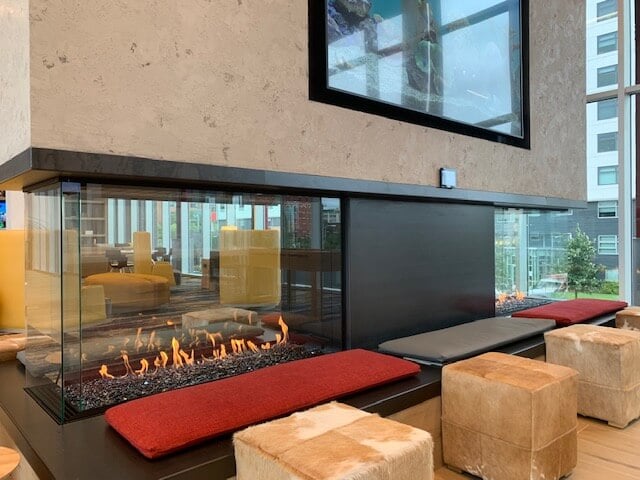 Located at the top of a grand staircase, the Vantage community lounge is home to a gorgeous Custom Montigo fireplace installation. Two beautiful back-to-back commercial grade pier fireplaces are stylishly configured to create a show-stopping room divider.
Completed by Montigo dealer Dreifuss Fireplaces, this custom fireplace design is an excellent marriage of form and function that adds warmth to the spaces on either side of the divide. The unique throated fireplace body provides a flush finishing option and room for audio visual components. A Power COOL-Pack glass system provides cool-touch safety for the sitting area around the hearth.
Vantage at Temple University offers an extraordinary student experience, and all the comforts of home.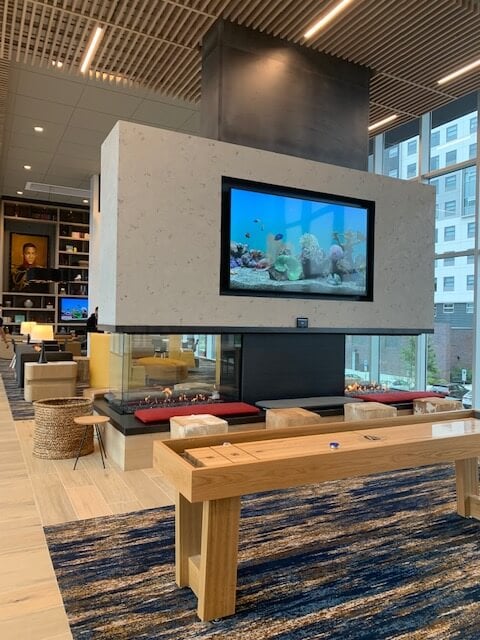 Fireplace Details
Model: Custom Commercial C520PFC
Configuration: Dual Pier
Gas Type: Natural Gas
BTU: 75,000
Vent Type: 12″ B Vent
Special Features: COOL-Pack glass, 24″ depth, 36″ glass height
---
Through consultation, design and construction, Montigo is with you every step of the way.
Montigo works closely with architects and designers to engineer, handcraft and install awe-inspiring, bespoke fireplaces for one-of-a-kind spaces. We collaborate with you to create a sense of space with our fireplaces.
For more information on working with Montigo's Custom Commercial team, visit the Professionals Resource Center.